One of the most relaxing places and with views that will stay with you forever from Rhodes. The area of Kritinia Castle In Rhodes offers tranquility, history and picture postcard views that will take your breath away!
Kritinia is located on the west coast of the island and is a little over 50 Kilometers from The City Of Rhodes and 10 Kilometers from the wine making country of Embona. It also lies a little further north on the island of another beautiful place named Monolithos Castle.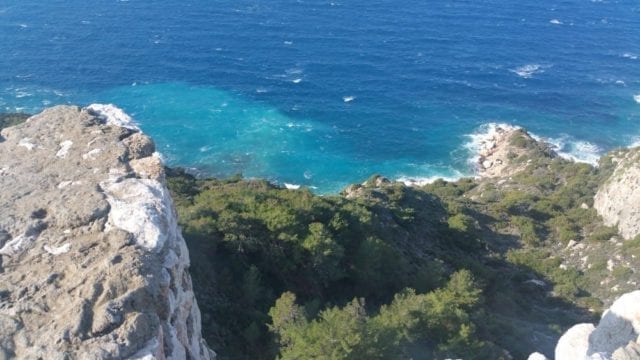 It has a population of approximately 650 people and has a small harbor called Kamiros Skala which will take you to the island of Chalki (which is clearly visible as it is only a short distance away). You can also see other non inhabited islands from here.
Kamiros Skala should not be mistaken for the Ancient City Of Kamiros however. Many people confuse this, but the Ancient Kamiros is approximately 15 kilometers away and further North!
The village of Kritinia sits beautifully on the top of a hill and the dwellings there are built on the grounds inclines and overhang the slopes looking out over the beautiful blue waters. You will also find here a small selection of beautiful Greek Tavernas and Cafeterias.
The History Of Kritinia Castle In Rhodes
The word 'Kritinia" actually means 'New Crete'. This came about during the Turkish Rule here on the island, as families had escaped Crete and made the island of Rhodes their new residence.
In actual fact, when these families first arrived in Rhodes, they settled in the area which is known today as Kamiros Skala. They moved however onto the hills soon after as a protective measure against pirates.
The key attraction of Kritinia is of course, the castle itself. Kritinia Castle in Rhodes (known as Kastello to the local people) sits a little over 130 meters above the village of Kritinia on a beautiful hill looking out west towards Turkey!
The castle was built by The Knights Of Saint John and it possesses both Venetian and Byzantine Architecture. It was built over three different floors and each area was designated to a different Grand Master of The Knights Order.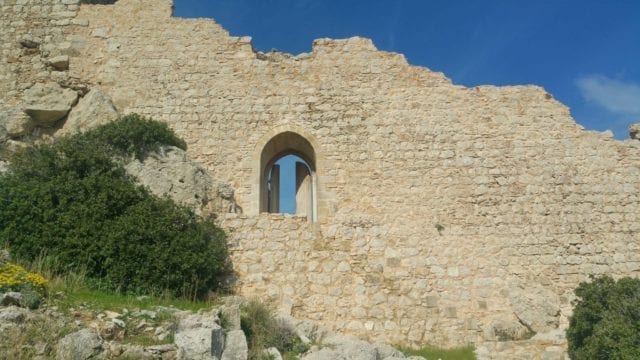 The location of the castle was carefully considered too, as it was built to defend the west side of the island against pirates. The view from here allows you to see all of the sea areas around 360 degrees, which made any approach very difficult by enemies of that time.
Back in 1480, The Ottoman Empire actually attempted to invade the island of Rhodes and a lot of soldiers were dispatched to Kritinia to take hold of the castle. Despite being outnumbered, The Knights fought well and after many battles and lives lost, The Ottoman Empire retreated.
Unfortunately, the castle was left in ruins. This did not deter The Knights however. They got to work on making restorations, eventually restoring it to its original state.
Kritinia Castle In Rhodes Today
As it stands today, the castle sits as an empty shell with the memories of what once were.
The entrance to the castle, although old and laying broken, still clearly shows two coats of arms. One is for the Grand Master Origny (from 1467 to 1475) and the other for Grand Master D'Amboise (from 1503 to 1512).
Inside the castle walls, you can also still witness remains of a chapel which was dedicated to Saint John and held some 16th Century paintings.
Also, during the summer months, you will find festivities taking place here especially one that is organized in June each year. This is known as The Medieval Rose Festival! This is really worth seeing if you are in Rhodes during this period.
Thankfully, it has been understood and acknowledged, the importance Kritinia Castle has played in years gone by. It is an icon on the island and it has been said that work will be carried out to preserve and strengthen the castle. I am yet to hear more on this, but the people here are very proud of their history, so I have faith that this place will be here for many more years to come for people to visit and enjoy!
Getting To The Castle Of Kritinia
The village of Kritinia itself is served by a bus service, so getting to and from this area is not too much of a problem. The castle however, is only accessible by venturing up a dirt track.
The is not too challenging, but it is worth keeping your wits about you if you have children or elderly people in your company. It is easy to trip and fall. So you need to take care.
For this reason, sometimes traveling here by car/scooter is better, as you can get most of the way on this road with transport. Buses do not go down this track. Just something you need to be aware of.
Also, you will be pleased to know, there are no entrance fees or charges to see this location. It is open to the public and the parking is free. Where else can you see 14th Century ruins for nothing? 🙂
Watch The Video For A Tour Around Kritinia Castle
Kritinia Castle In Rhodes: Overall
In my opinion, Kritinia Castle in Rhodes holds an important part of history on the island. I believe everyone should make an effort to see it.
Traveling there is easy, and there are some gorgeous views down the west coast as you make your journey.
Once there, you will be confronted with history, architecture and views that are difficult to see in most places. Do not miss out on Kritinia Castle if you are ever on the island
If you have any questions be sure to leave them in the comments below and I will get right back to you.
Have you visited Kritinia Castle? Or are you planning a visit maybe? I would love to hear from all of you out there.
Click From Below To Continue And Learn More About The West Coast Of Rhodes.