Welcome to The City Of Rhodes In Greece, one of the most beautiful places in all of the Mediterranean, and with good reason too.
After living here now for over the last 10 years, I am still surprised by how amazing the City of Rhodes is. I see something new every time I go and there is always things to do and something going on.
A lot of people refer to Rhodes as a city, and some also prefer to call it a town. I guess if you compare it to the size of London or New York for example, you would understand that the Town/City of Rhodes is small, but it certainly makes up for it with its beauty. You will find this area at the most northern point on the island!
Naturally it has everything you need when visiting ranging from sites to see, shopping, views, restaurants, clubs, Rodini Park and so forth. It is also famous for the Mandraki Harbor.
If you stand at The Marine Gate (One of the Eleven Gates to The Medieval City) you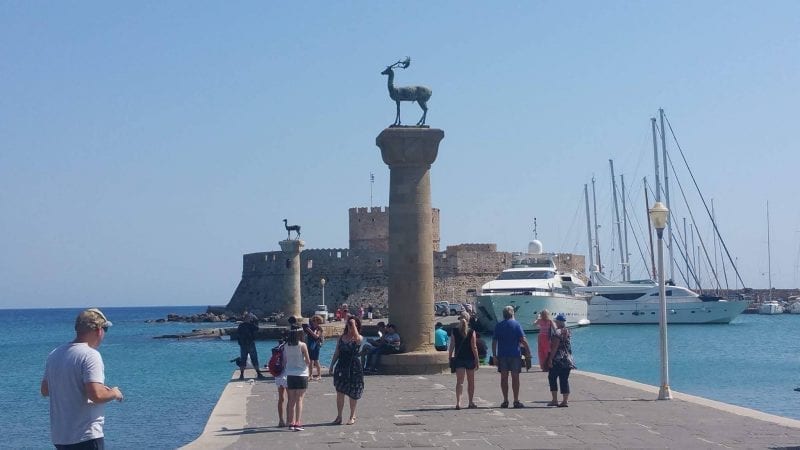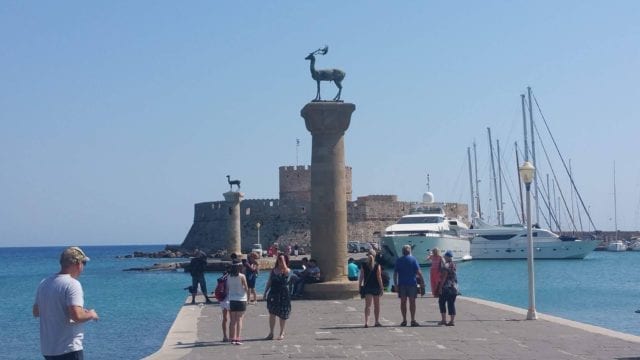 can enjoy watching the huge cruise ships coming in and out, as well as the traditional Blue Star Ferries carrying their passengers and goods. This service feeds the island (and other islands) from the mainland and they come in and out on daily basis.
Take a perfect blue sky, the shining sun, the beautiful blue waters and the clean fresh air while watching these huge ships coming and going is a real treat. As we say in English, it is postcard material 🙂
The Stag And The Doe
One of the more famous spots on the harbor is the entrance itself. As you approach,
you are welcomed by the bronze Stag and Doe columns. This is a very important location, as it is said that The Colossus once stood there.
According to different stories, it is believed that he stood there with one foot on one side of the harbor entrance and the other foot on the opposite side. With this, the ships are said to have arrived and departed by sailing under the legs of the enormous statue.
To the side of the main entrance, the St Nicholas tower stands there which was in place to guard the harbor. This tower was constructed around 1460 – 1470 and really is a wonderful place to visit.
The Windmills Of Mandraki
Just a few meters away from St Nicholas Church you will see the Mandraki Windmills. There are three in place now, but there were many more in the past. It is believed there were up to 15 all together, but they have sadly disappeared as time has passed.
They were designed to process the grain which arrived on the ships that came in and out of the harbor.
Although they are now not in use, they still provide a beautiful location for photographs, and tourists visit them in their thousands every year.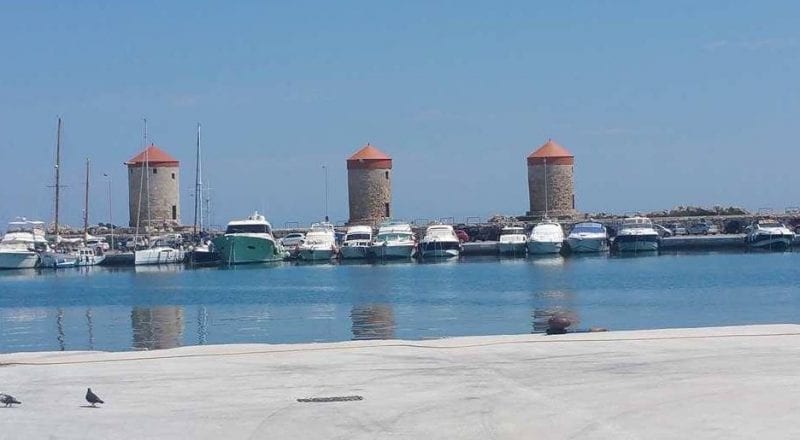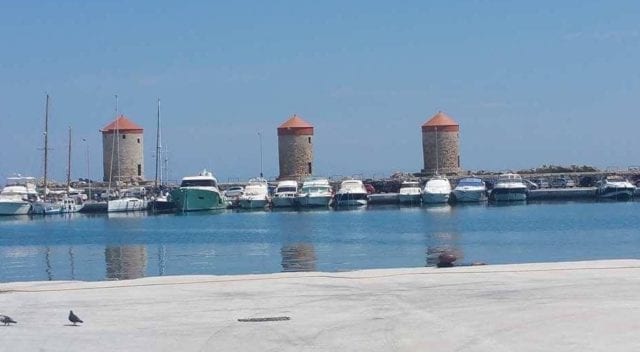 The Views
While standing at Mandraki Harbor, you will see all around you places of interest. You have The Evangelismos Church which was constructed by the Italian Forces in 1925, now a beautiful and very lavish Orthodox Christian Church.
You can see the old market entrance and lots of structures that date back many years. It can be a strange feeling, as when you sit and look around, you can see a very up to date place with all the latest shopping outlets, modern cars and a very city like atmosphere. But it all blends together with ancient structures with The Palace Of The Grand Masters standing tall, overlooking and protecting its surroundings!
This has come about as the original Ancient Town/City of Rhodes was build in 408 BC. That is 2500 years ago. Since then, the town has been developed (Rhodes New Town) and as a result the new structures stand side by side with some of the old. I think this is what I love about Rhodes Town the most. Being able to visit, and see daily life taking place in an area that has been populated for thousands of years.
Standing in the streets and appreciating that The Knights Of Saint John once resided here. It is quite a feeling!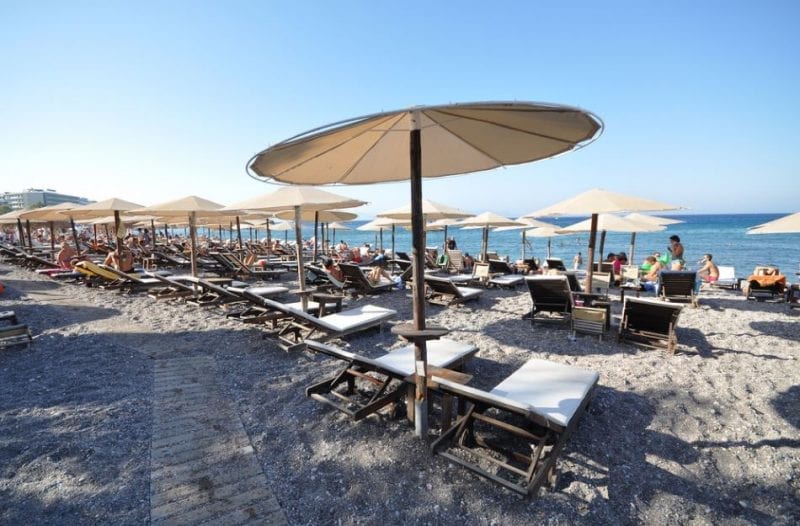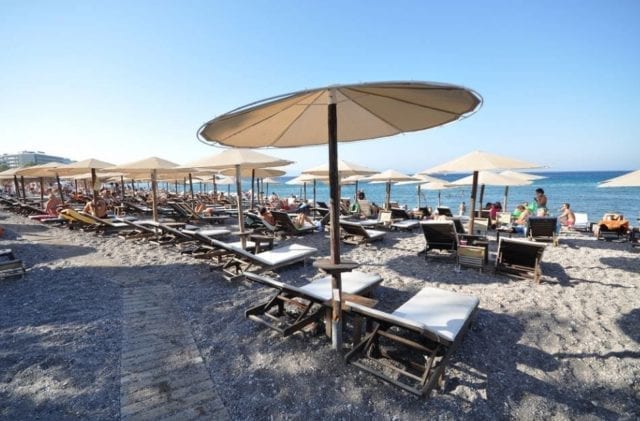 The Beach And The Casino
Like I have said, Rhodes Town has everything you need. There is always something to do. Whether you prefer going out and enjoying the night-life, or you prefer to take your book and relax on the beach – you will find it here.
Incidentally the main beach in Rhodes Town is called Elli Beach, and it is a beautiful sandy beach with crystal clear blue waters. Sitting just off the beach is the huge Casino Of Rhodes. This is extremely famous and lot of people fly around the world simply to visit and play at this casino.
Although I am not a gambling man myself, I have one friend who works in here. He tells me that the games are played extensively and there is a hotel and restaurant also inside. He also told me that there have been a few big winners, but he also mentioned a few people have left in tears too 🙂 You have been warned!!
Conclusion
Overall you will love Rhodes Town should you choose to visit. There is nothing quite like sitting outside one of the cafeterias here, with a nice cold beer, the beautiful sun and the amazing views. Life does not get better than that 🙂
Have you had the pleasure of seeing The Town Of Rhodes for yourself? How did you find it? I would love to know what your thoughts are. Also, if you plan a visit here, and want to know more, just leave me a comment below and I will get back to you.
And stay tuned, there is more coming 🙂 I look forward to hearing from you all.
Thanks
Chris
Learn More About The City Of Rhodes. Click From Below For Further Reading.