If you are a person who likes fitness and cycling then Rhodes Bicycle Hire is a common and fun way to see the island.
Where do you go to rent a bicycle? What do you need to know?
Here I will discuss renting a bicycle in Rhodes and mention some things to look out for that will benefit you and alert you to some safety issues too.
There are different options and outlets when it comes to bicycle hire in Rhodes, so you do not need to go jumping into the first store you see thinking it is the only one. With the popularity of the taxi, buses and rent a car services a lot of people assume that bicycle hire is not too common here and they rush decisions thinking if they do not get right now – they will not get at all!
Well it is not true, but there are still some things to know.
So what are your options?
The Electronic Way!
If you walk around the island especially in the city you will see bicycle stands with the bikes locked up and the option to rent one with use of a credit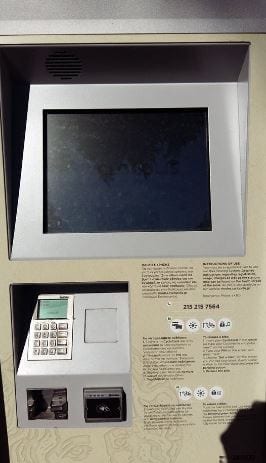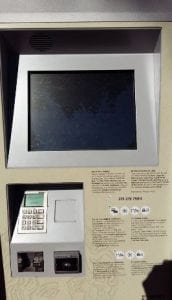 card/membership card. I have put some photos here for you to see what I mean!
Now I will never tell you not to use these, but I personally am not a great fan. I prefer customer service with someone to talk to if there is something I need, or indeed if something goes wrong!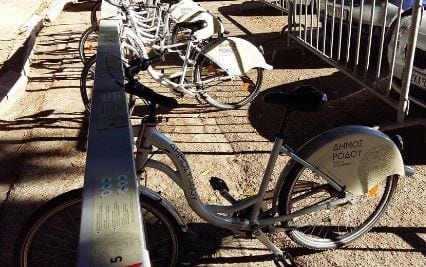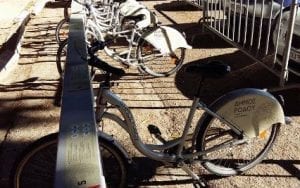 Although it does not often happen, it has been known for people to have billing problems
with these machines and when you have been using one of the screen computers shown here they can be a little bit of a headache when it comes to problem solving.
It is only my opinion though, and you are entitled to your own too!
If you decide to use one of these services then the computer screen offers various languages for you to be able to navigate more easily. If you have used one of these services then let me know. I will be the first to admit I am not an expert so if you know something I don't, my ears are open 🙂

Bicycle Hire Shops
Now call me old-fashioned, but this is the route I would take. Of course, I am not going to list all the shops that offer bicycle hire on the island of Rhodes as I would be here all day, however I do know a good one that is reputable that offers great service and excellent bikes and equipment.
What you need to look at when you choose to rent a bicycle here is the other things that you need. It is better to choose an outlet that offers you all the things you need to enjoy your time with safety at the forefront!
I have mentioned on other pages on this site that the roads here on the island are not always the safest things. There are careless drivers around, young people on Moto Scooters and a lot of the time the place is full of tourists who do not always know the route they are supposed to take!
With this in mind, being on a bicycle needs your full attention!
Rodos Cycling
There is a great shop here located in Ialyssos which is around 8 Km south of the City or Rhodes and 7 km north of the airport (west coast). So in the middle of the two really :). It is very easy to find and is located at the Sunshine Vacation Club (Hotel).
The prices are extremely reasonable and you are kitted out with all the safety gear too. I feel this is really important.
The name of the store is Rodos Cycling and in all honesty it is probably the best you are going to get here! It has all the bikes, all the gear, it offers advice and also excursions with a tour guide. So not only can you go out with complete safety, you can learn all about the island and its history while you do so. They even offer all in one full package cycling holidays.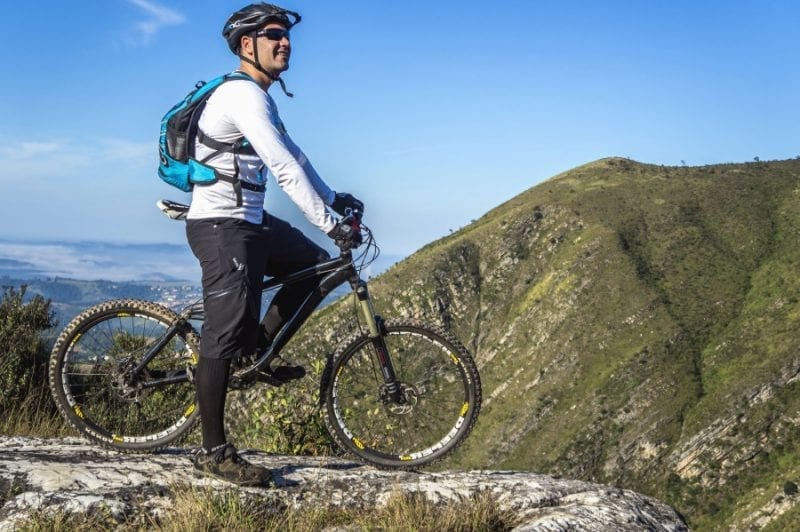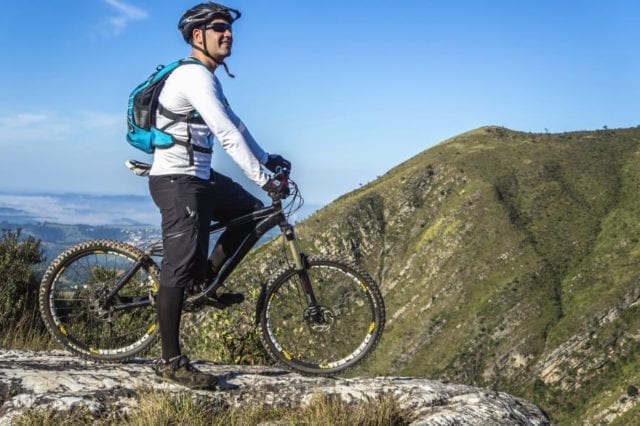 This is a much better option that renting a bike alone and going your own way.
Also, with Rodos Cycling, you can call them to arrange an excursion and they will come and collect you from your hotel and take you to the starting point!
If you want to take a look more into this option the link is here 🙂 Rodos Cycling
A Sad Side
I do not want to lower the tone of your visit here at TheIslandOfRhodes.com, but I believe in honesty. Some people on the island (including tourists) simply will not wear a crash helmet or a cycling helmet. They prefer to argue and fight about the reasons why they do not want to wear them, but believe me – accidents happen.
People sometimes forget safety when it comes to being on holiday and they feel like they are in another world. People have died on these roads because they simply will not wear the required protective clothing. So if you are going to rent a motorcycle or a bicycle, please wear them. You will be thankful later if something goes wrong!
Check This Great Video Slide Show
Overall
In my opinion, if you are a keen cyclist and enjoy the outdoors then you will love having a bicycle here. Beware though that some of the hills can be a little tiring on the legs 🙂 If you get the right outlet, follow safety precautions and follow a tour guide then you will have the best time and you will not miss the important parts of what the island has to offer!
By the way, I am lazy and have a car and a motorcycle, so forgive me for not joining you on your cycle tours 🙂
Check out the video above to see some of the things you can see on the available cycling tours.
This covers the cycling section, and from here you should have obtained a good knowledge on what to look out for.
If you have any questions or you need some more information just let me know. I am happy to help you out! It is always great to hear from you so please leave me a comment!
Learn More About How To Get Around Rhodes. Click From The Options Below.