There are literally hundreds of options when looking at car rental in Rhodes Greece. It is a common way to get around the island and is the first choice for millions of holiday makers every year.
Which one do you choose though? Many people are caught out by extra charges they were not ready for as well as other issues. Are you going to be one of them?
Here I will talk to you about renting a car in Rhodes and what to look out for during your visit.
First off, 'Can I not bring my own car'? I hear you cry 🙂 Well, you can, but to be honest it is not worth it and you will find it lot more of a headache (and more expensive) than simply renting one during your stay here.
Most of the car rental businesses here are eager to rent you a car and the prices can vary from company to company. You can make arrangements for the car to be ready for you and waiting at the airport for your arrival, or you can settle in first and have one delivered to your hotel (or wherever you are staying).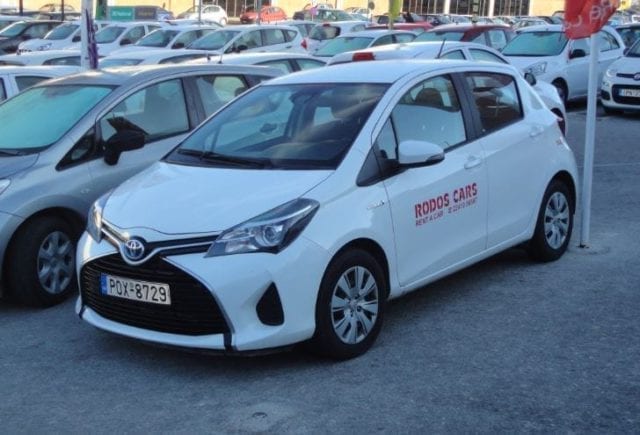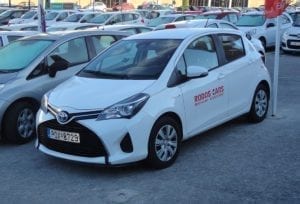 Of course, you will find all the big names here when it comes to car rental. Avis, Hertz, Budget and Enterprise are all big players here but that is not to say you cannot find great deals in other places too. Rodos Cars is another great and reliable company and the service you get is also with that personal touch which you do not always receive with the big car rental agencies. There are also other reputable companies which offers great service and prices.
To be honest the list goes on as there are hundreds of rent a car offices around the island. The only thing I want to make you aware of is the issues with insurance.
Insurance
The problems people have with insurance is common when it comes to renting a car here. Some companies have promises they do not always keep and when it comes to you needing assistance and they do not always stand by you. Some standalone family businesses can be like this. The big company's I mentioned above are actually sound when it comes to insurance, Rodos Cars being the best by far in my opinion!
The smaller companies can not be so secure though, and if something happens you can find yourself being asked to pay lots of money!
Bookings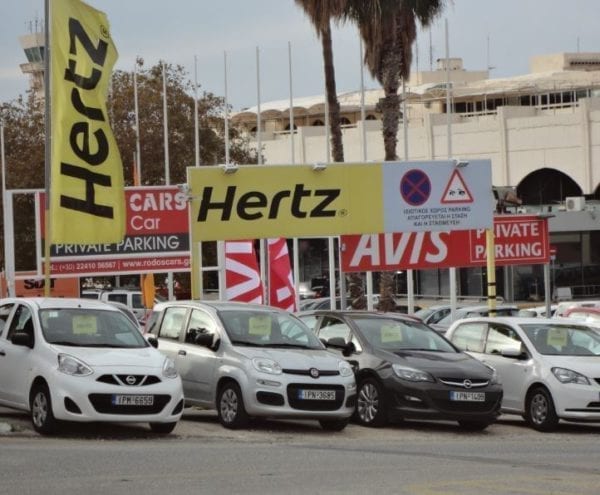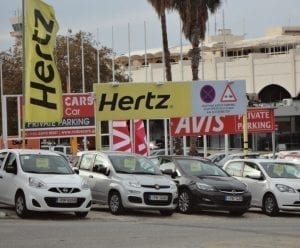 A lot of people decide to order their car on the internet before arrival at the airport or ferry port. This way the car and rental agent are waiting for them to make the delivery at the specified time of arrival. This is common for people who want to have the car for the full duration of their holiday as they can also return the car back to the same place at the end of their stay! It also alleviates the issues of getting around with all their bags once they get here and after a long journey.
Other people prefer to take the transfer buses provided with their holiday package straight to their hotels as they may not want to drive straight away after coming off the aircraft or boat. This way, they get transferred to their hotel or place of residence and if they choose to rent a car later it can be delivered to them without a problem.
You will find that in most of the big hotels on the island there will be a rent a car desk and a representative from one of the car rental companies on the island. For example, if you are staying in an Atlantica hotel, you will be greeted by someone from Rodos Cars in the reception should you want information! Budget also have offices in different hotels as also do Hertz and Avis!
Your Choice!
When it comes to choosing a company to Rent A Car with, it comes down to your own approach and feelings on it. It is not for anyone to say one is better than the other in this case as even the best companies in the world can have an unsatisfied customer. Personally I have rented cars here on the island from Avis and Rodos Cars and the service was excellent, although I will admit Rodos Cars was better priced and all the insurance was included. With Avis, I had to pay extra!
I also have a lot of friends that work in the different Rent A Car companies here and to be honest I do not hear so many bad things when it comes to their service.
If you choose a bigger company with a name yes, you will pay a little more, but trust me it is worth it if anything happens. The smaller companies will not offer you the protection the bigger ones will! That is my opinion anyway!
What You Need
To rent a car in Rhodes you need to meet the following criteria. These vary from company to company but you can use these as a general guideline!
A Valid Driving Licence (i.e Not Expired)
An International Driving License if you are not an EU driving license holder!
You must be 21 years or older (25 for special cars such as Cabriolet or Jeeps)
You must have been driving more than 1 year!
A Valid Passport
A Valid Credit Card (some companies will take a cash deposit until your rental is finished)
It is important to note the age restrictions. There are a lot of younger people, for example 18 years old, that go around asking for the latest cabriolet sports cars or huge soft top jeeps. The companies here on the island simply will not do it for someone so young, especially when the cars are from the more expensive range.
As I said above, the minimum age of the driver needs to be 25 and over for these categories!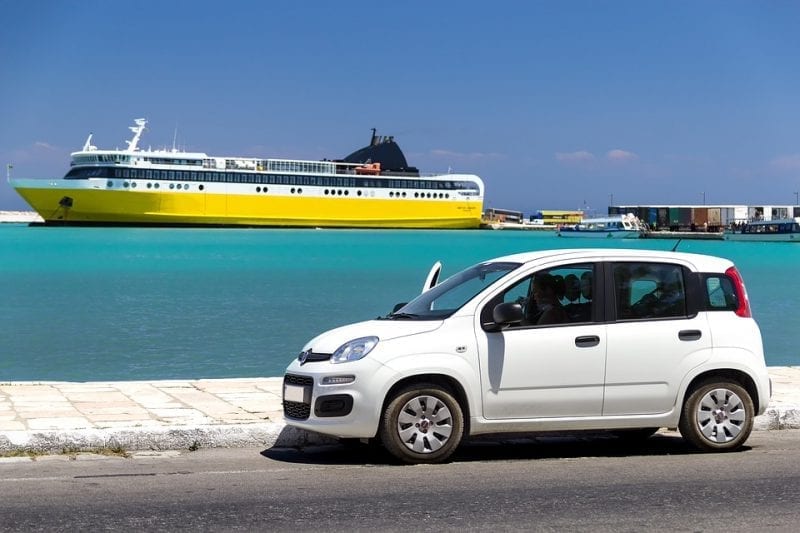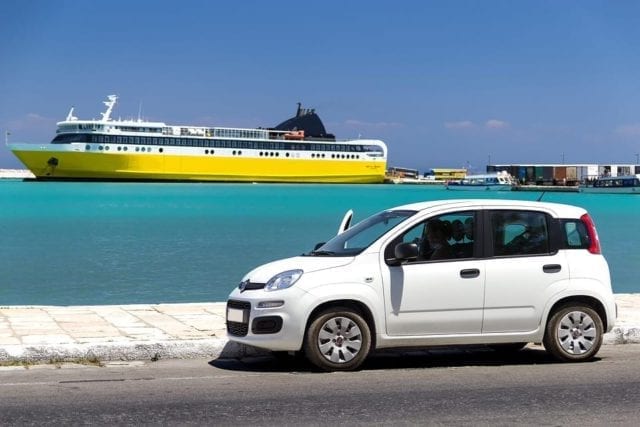 Caution!
One of the common problems here is the fact that some people lose their sense of responsibility due to them being on holiday. They will sometimes do things that they normally would not do if they were back home. Drinking and driving is one of them!
Yes I know, holidays are holidays, we all want to have a beer or a glass of wine with our meal or have a night out. A word of warning though, if you have an accident and you have been drinking the Greek Police will not tolerate it in any way!
Reserve Your Rental Car Now – Click Here
Many accidents have occurred in the past and you really do not want to be one of these statistics. And let's not forget, no matter how good you think your insurance is, it will not cover you if you have been drinking, so think ahead! If you are planning a night out, consider using the bus service or a taxi instead! Do not risk drinking alcohol and driving a car.
The Greek Driving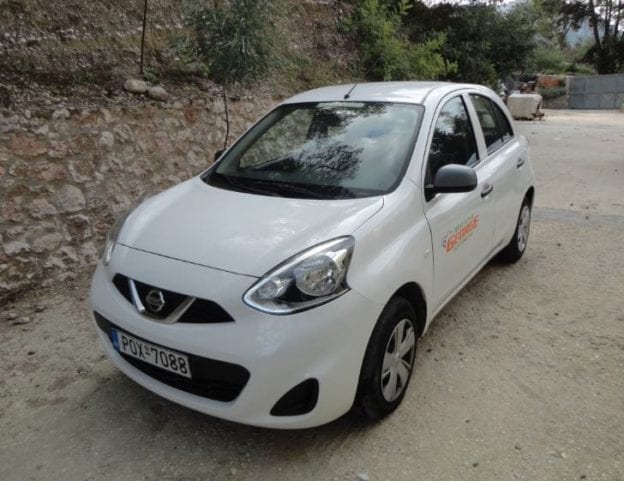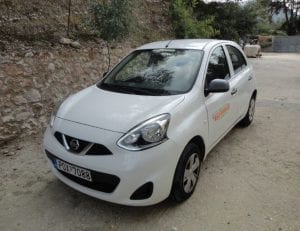 One of the most common questions people ask before renting a car is with reference to the Greek drivers! Well what can I say? Good or Bad?
They can seem to drive a little on the fast side, and they do seem easily distracted! It is not uncommon to see them chatting away on their mobile phones oblivious to what is going on around them! The only thing I will say is, let them get on with it. You follow the rules, take your time and do not race.
You will never change the way people drive, not in Greece or anywhere else, so you just do your own thing and be safe! For sure there are no reasons here for it to scare you out of renting a car to see the island.
But On A Lighter Side
Renting a car really is the best way to see the island. You can move around in your own time, see what you want to see and when you want to see it. You are not tied to someone else's timetable and you can come and go as you please. If you were to ask me the best way to get around Rhodes, this is definitely the way!
99% of the island is safe to drive around and the road signs are in both Greek and English. The island is easy to navigate and the coastal road runs all the way around. If you get lost (which you won't) look for the sea and you are back on the coastal road! Easy!! 🙂 Only a small number of roads to the south of the island can become a problem inland as they lose the asphalt in places. Other than that you will be fine!
Overall if you rent a car during your stay here you will not be disappointed and you will open the door to see as much as possible!
This covers the car rental section, and you should be able to move forward knowing what to look out for.
If you have any questions about renting a car on the island feel free to let me know! I have a lot of friends in this business like I said, and if I do not know something, then I can find out for you with no trouble 🙂
Leave me a comment too if you have something to share! I always like hearing from you all!
Learn More About How To Get Around Rhodes. Click From The Options Below.