So let's talk about getting around Rhodes by taxi!
While in a foreign country and not completely aware of your surroundings, it can be easy to lose money on taxi fares if you are not ready for it!
Here I will explain a little more on using the taxis in Rhodes so you understand how it works before you hand over your hard earned cash!
The taxis in Rhodes are very distinct as most of them are Mercedes-Benz. 99% of them are blue with a white painted roof and they of course have the yellow taxi sign on the top! On the odd occasion you will see a BWM model or even Skoda, but Mercedes-Benz is by far the most dominant!
The Taxi Service on the island is a very popular and accepted way to get around due to the sheer amount of taxis on the road. When you want one, you can pretty much get one almost immediately or in a very short space of time.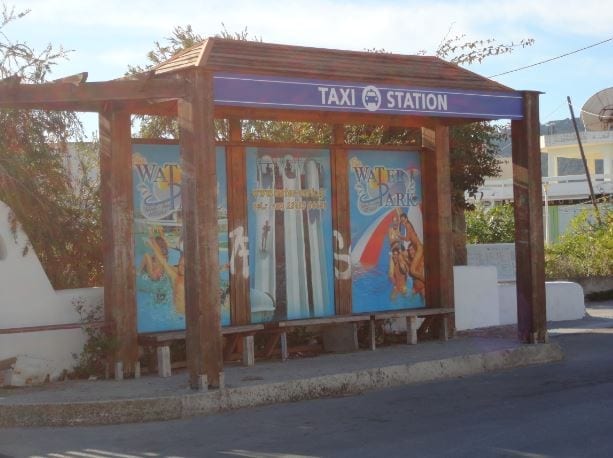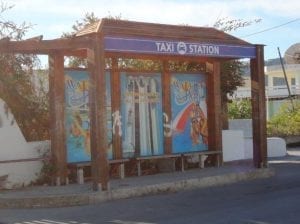 Over the last couple of years the system has been cleaned up a little from what it once was. In the past it was not uncommon to jump into a taxi and have no idea how much the journey was going to cost you. It was rare for the driver to put the meter on so a lot of the time you could have been paying way over the top.
There is a system in place now which requires the driver to give you a printed receipt for your journey so there is no confusion as to the price you will pay. The meter should be on during your journey – If it is not, ask the driver to switch it on!
Overall if you do decide to use a taxi on the island, you will not be too disappointed with the service. The taxi drivers are always friendly and they will happily talk to you on your journey. They will get you where you want to go both speedily and safely.
One Thing To Know!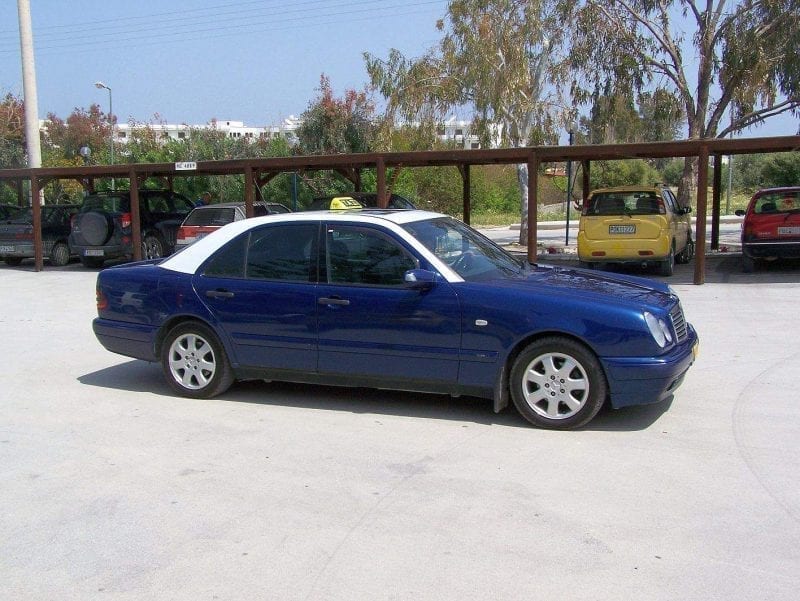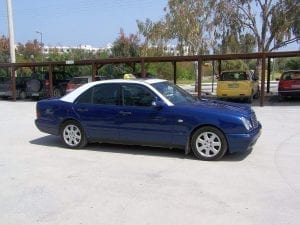 I will tell you this as it happened to me a long time ago. If you are in a taxi, for example two people, and you are on route to your destination – do not be surprised if the taxi stops along the way to pick up more people!
I do not think this is really a bad thing, I mean if he has seats free in the car then why not? It is just you can find yourself sharing part of your journey with complete strangers!
It caught me by surprise to be honest when it happened to me as I had never seen that in other countries before. I mean the taxi drivers in London lock you in the car, never mind let more people in 🙂
Saying that though, you pay your own fare, not somebody else's – so don't worry!
Prices
The prices these days have become a lot more available to see than they used to be. You can see the taxi price list at most taxi stations and they are quite clear how much a journey will cost you from that station to the attractions on the island.
No matter where you are going though, the minimum fee is 4 Euros. So even if you needed to go 1 Km it would cost you that amount! On saying that, they are good for short journeys and moving around here and there.
The buses on Rhodes are also good for hopping around locally, so this option is something to consider too. For longer distances however, I would look at other options for sure!
You can see the current price list in the photo below for the taxi service.
Note: At the bottom of the price list it says "prices are approximate". So it proves my point doesn't it really? 🙂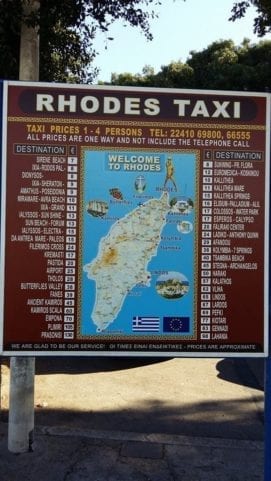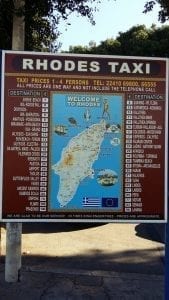 Airport Service
The taxi service always provide hundreds of taxis at a time waiting for people arriving at the airport! Again from the airport they will take you where you need to go in a safe manner.
Be aware though, when you take a taxi and you have also with you your luggage – you will be charged extra! If I remember it is around 1 Euro for each bag. Not too much, but something you should be aware of!
These taxis at the airport can also be pre-booked ready for your arrival. You can find more information on this on the Rhodes Taxi and Transportation Services website.
On A Personal Note!
Personally I do not like to use the taxis. I think the service they provide is good and I am not saying they do not do a good job, they do!
But for me they are way overpriced. For other people, they may find them reasonable – but that is something you can decide for yourself!
As an example – to go from The City of Rhodes to Lindos (around 40 Km) it will cost you in the region of 65 Euros, and the same again to come back! 130 Euros in total. (Prices are approximate remember). With that same money you can rent a car for 7 days (yes that's right – 1 week).
See what I mean?
From here you should be able to use the taxis with a lot more confidence and knowledge.
If you need further information on the taxi service here in Rhodes just leave me a comment below. Maybe you have had the experience of using a taxi on the island and have something to share? I always welcome your thoughts and/or experiences!
Just leave me a comment for this too and I will get right back to you! 🙂
Learn More About How To Get Around Rhodes. Click From The Options Below.