When it comes to getting around Rhodes there are a few options. Many people often approach me asking for directions or the best method of transport to take, so I wanted to offer some information also on this site.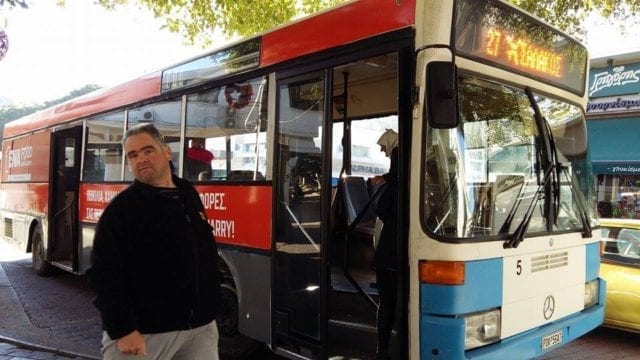 It is not unknown for people to have problems when choosing a method of transport to get to where they want to go when they visit the island.
I want to just cover your options, as if you are not careful, you can be taken for a ride (and often not the ride you were looking for :))
Some people may know (or not know) there is not actually a train service or tram system on the island. The island is small and it is certainly something that is not needed here in my opinion. Some people still look for it though 🙂
If you want to get around the island you have these choices.
Walking (of course if you do not intend to go far – and bear in mind the hot temperatures in the high summer season)
Now at the bottom of this page you will see the options to look more into the information you want, I hope this makes it easier for you rather than throwing all the information on one page.
NOTE
When it comes to getting around Rhodes, the most complaints I hear from the tourists is due to the service of the Taxi's. They can be a little rough on you when it comes to the prices. Do not get me wrong, they are nice guys and girls and they are trying to earn a living, but they can also take advantage of you if you do not know what you are doing.
I will give you an example!
When I first moved here and I was still a little wet behind the ears – I made one mistake that taught me a lesson for life.
My home is in Ialyssos on the west coast of the island, about 12 km from The City Of Rhodes. I knew it was about 15 Euros to do this 10 minute journey by taxi, but I thought what the hell, it is a beautiful day. I put on my shorts and flip-flops and decided to have a nice walk instead.
About half-way I realized that I had not timed my walk to perfection and was running a little late, so I flagged down a taxi!
Now bear in mind I had already walked half way! – How much did it cost me? 7 or 8 Euros? NO!!! 15 Euros, the same price as the full journey would have cost me to start with!
Needless to say that was the last time I ever took a taxi 🙂 Your best option is to take the bus or to rent a car for the days you want to get out and about!
Anyway, I digress 🙂 But just keep your wits about you and if you do take a taxi, make sure you ask them to put the meter on!
Click one of the images below for the type of transport you are interested in!
Let me know if you need any further information! Hey, you may even have something you want to share? I am always happy to listen to your thoughts and ideas!
You can leave a comment below or contact me if you prefer!
Thanks.
Chris.
Learn More About How To Get Around Rhodes. Click From The Options Below.