One of the main tourist attractions on the island is Kalithea Springs In Rhodes. It is very popular for the beach and the blue waters, and people flood here every year to enjoy the peace and quiet and to relax. You will also see this location on road signs and maps spelled as 'Kallithea Springs' with the double 'L'.
Located just under 10 Kilometers from the city of Rhodes (between Rhodes and Faliraki). it is a place everyone should make the effort to see during their stay on the island.
So, why would you want to come here? What is here that is so attractive? What is the history behind The Springs? Here I will offer you some information which will guide you around this area during your visit.
So, let's get started shall we.
The History Of Kalithea Springs.
For generations, Kalithea Springs has long been known for its curing and remedial waters. If you read the section here on this website on the Summary Of The Modern Times in Rhodes, you will recall me mentioning an Italian Commander by the name of Mario Lago. He was the commander that ordered the building of the first hotel on the island which was called The Grand Hotel Roses. This structure today is known as The Rhodes Casino.
Well, this same man also ordered the inspection and research of the waters in Kalithea.
The results that came back from these studies revealed that the water indeed had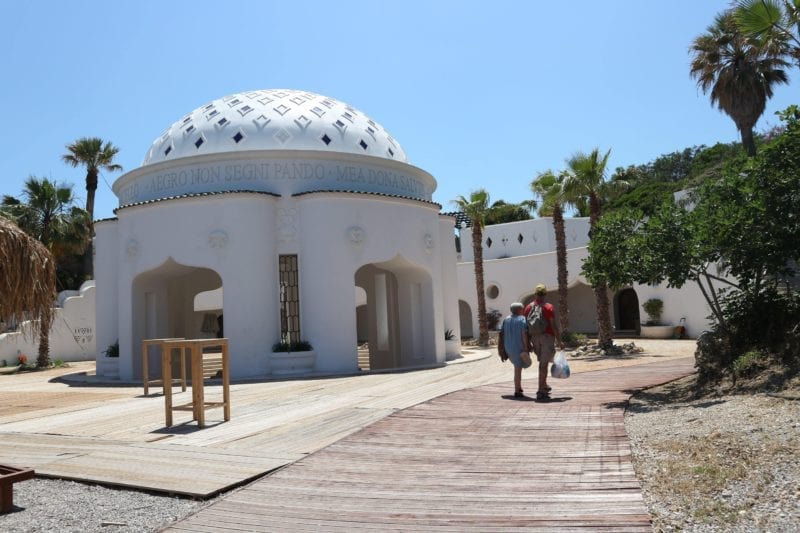 very significant properties, and a plan was later put together to develop the wholearea as a spa.
A lot of though went into this too and many designs were considered. Eventually, the work was assigned to an architect named Pietro Lombardi. His plans for creating a Thermal Spa were considered the very best at that time and the characteristics of the architecture involved were at their finest.
The first buildings were made in late 1928 and The Springs in Kalithea officially opened on the 1st of July 1929 and it attracted people from all around the globe. This was the case as it was widely known that the properties from the waters (which flow from the rocks) assisted in the healing of sick patients.
People with illnesses such as Malaria, Asthma, Diabetes, Arthritis and other problems were said to have benefited greatly after visiting the natural Springs of Kalithea.
In the 1960s, famous movies have used the location of Kalithea Springs to film their sequences. 'The Guns Of Navarone' is of course one of the more famous as is 'Zorba The Greek'.
The actual Springs of Kalithea closed in 1967.
It was not until recently that a huge effort was made to restore the Springs. Years have passed since its closure and it was basically left to ruin. A huge project has been undertaken and the Springs now stand again like they once did.
Although the official Therapeutic Spa is not longer in operation, the restored building is there to see. It is quite a magnificent place and you will see it surrounded by beautiful pine and palm trees and it offers now cafeteria outlets.
Kalithea Springs is also now very popular for wedding ceremonies and very often you will see couples making things official here.
Why You Should Visit Kalithea Springs
I have been to these springs on many occasions and I have to say I love it here.
As you walk around you cannot help appreciate and fall in love with the beauty of the place. The old mosaic floors, the marble structures, the ancient staircases and the huge entrance with the amazing fountain are sites to be seen without doubt.
Although it is clear there has been a major refurbishment program put into place, the history is still very much present.
You cannot avoid walking around and saying 'WOW' under your breath. It is almost like walking around the set of a movie.
With this, there is the beautiful sandy beach which you can enjoy and the beautiful rocks which make up the bay.
I think this is one location that I could talk about all day and try to make you understand its beauty. I will admit I cannot. To see this place for yourself will exceed anyone else's opinions. Let me just say, you will love it!
For this reason, I have included a photograph gallery for you to see. This video will hopefully offer you a nice taste too!
Getting Married?
Like I have mentioned, Kalithea Springs is a number one choice for people who are planning their wedding.
Because of the layout and setting, having a wedding here will result in the most unforgettable day and you will have fantastic photograph opportunities to capture you memories.
As you walk through the grand entrance and past the fountain of Kalithea, you continue down towards the Spa area, through the gardens, around the fantastic marble structures and out onto the sandy beach with its beautiful blue waters.
I have had 3 friends of mine get married here, and they all later told me it was the most unforgettable experience.
The film setting appearance that Kalithea Springs possesses cannot be beaten.
So, if you are planning on getting married in Rhodes (and lots of people do), make sure Kalithea is one of the places you look into.
For your information, St Pauls Bay is also a hot spot for people that are looking to plan their wedding. Either way, they are both locations where you can have your perfect day!
Kalithies Village
Here, I want to mention the village of Kalithies.
The reason for this, is sometimes I have seen people become confused when it comes to finding their way around the area, especially when looking for Kalithea Springs.
Both Kalithes Village, and Kalithea Springs are in the Municipal of Kalithea. This means, although they are in the same district (or area), they are not the same place.
The Village of Kalithies is actually 15 Kilometers from Rhodes City whereas The Springs are a little under 10 Kilometers.
This village was actually given its name after the word 'Kilothos' which is the name of a plant from this area.
If you are interested, the village is also well worth visiting. It still possesses that old Greek feel to it and there are a lot of old ancient monuments there to appreciate from the Prehistoric Period.
Opening Times And Pricing
Kalithea Springs requires an entrance fee for you to see it all.
Although it is not expensive, it is something you need to be aware of.
It also has opening and closing times, so the information is all here so you are not caught off guard.
Opening/Closing
The Springs are open from 08:00 until 20:00 daily, and you need to pay during these times.
After 20:00 you can enter the area free of charge to use the cafeteria facilities.
Prices
Adults – 3 Euros
12 to 18 Years Old – 2 Euros
Under 12 Years Old – Free Entrance
Students (EU) – Free Entrance
Pensioners (over 65 Years Old) – Free Entrance
Free Car Park Provided
Note: Valid Identification will be asked for from students to gain obtain the free entrance pass.
For more information you can call the Kalithea Springs general telephone number (+30) 22410 37090
Overall
The area of Kalithea Springs is an absolute must see for anyone visiting Rhodes. It is really easy to find and you can get there either using a local bus service, a car, a moto or you can even get there by boat. There are daily boat trips from Mandraki Harbor in Rhodes Town!
It really is a picturesque location and one that would be a real shame to miss out on.
There is nothing like taking a swim in the lovely blue waters, relaxing on the sandy beach and admiring the surrounding architecture.
The outlets for your refreshments are really great and you can sit and admire the amazing views.
The mosaic flooring and the beautiful structures are simply breathtaking too.
A 10 out of 10 score from me every time.
If you have any questions on Kalithea Springs please feel free to get in touch with me.
Maybe you are planning a wedding here? Maybe you have visited and have something you want to share or have a story to tell? Whatever you reason, I would love to hear from all of you.
Just leave a comment below.
Click Below To Continue And Learn More About The East Coast Of Rhodes.