While in the Lindos area, it would be a crime not to pass by and see St Pauls Bay in Rhodes.
In my opinion this is one of the nicest beaches/bays on the island and if you are looking for a place to relax, this is it.
While the main beach in Lindos is quite magnificent, you will find St Pauls Bay (also known as Agios Pavlos Beach) a lot more peaceful and with less in the way of crowds. I love it here and have spent many an afternoon soaking in the sun and enjoying the crystal clear blue waters.
This bay is named St Pauls Bay as it is said that St Paul The Apostle himself arrived on the island in this location back in 51 AD. From here he went on to preach the Christian Faith to the Rodian people.
A Magnificent Setting
This bay is located just South Of Lindos and this makes it a place to relax while enjoying magnificent views.
It is overlooked by the amazing and ancient Acropolis and The White Village Of Lindos. The Lindos Acropolis itself stands in magnificent form and can be seen clearly as you relax on the beach or swim in the warm waters.
Enjoying a nice afternoon while looking at thousands of years of history before you is an amazing experience.
If you think you have ever been to the beach, you will rethink it after seeing this location!
The Beaches At St Pauls Bay In Rhodes
What I like most about the small beaches in St Pauls Bay is the fact that they are so secluded. You can find this area very easily and it takes you into another world.
All the bay is surrounded by beautiful rocks which protect you from any wind. There is only one small gap within the rocks on the North side. This is enough for the small boats to arrive and depart as needed.
There are actually two small beaches within the bay but in all honesty, both of them offer pretty much the same experience. They are secluded from the outside world, and they offer beautiful blue and shallow waters and are made up with beautiful golden sand.
One of these beaches is at the Southern end of the bay, and the other at the Northern end!
Because of the shelter from the surrounding rocks, the water within the bay gets beautiful and warm which makes it a real treat to go swimming.
It is also perfect to put on your snorkeling mask and take a swim and a look under the water surface. There are lots of fish to be seen swimming among the beautiful rockery.
There are no other water sports that take place here.
Note: Be Careful
Take care when visiting St Pauls Bay. It can get extremely hot, so you need to take precautions. It is easy to get caught out and suffer with severe burns. Take sun cream, a sun hat and lots of water. You will need them. Also, pay close attention if you have children with you.
Sometimes when you are swimming and having fun you can forget about your safety. Sometimes the temperatures here can be in excess of 40 Degrees Celsius, so do not get caught out!
The Chapel Of St Paul
While visiting St Pauls Bay it is hard not to notice the lovely small Chapel Of Saint Paul. A stunning whitewashed little structure that sits on the edge of the beautiful blue water.
Due to its location and stunning quaint appearance, it is of no surprise that it is used for weddings. This perfect spot makes for the ultimate wedding photographs.
So, if you are ever visiting, do not be surprised if you see a loving couple tying the knot 🙂
In actual fact, as far as Rhodes is concerned, this bay is one of the most sought after locations when it comes to weddings. Kalithea Springs is the other one.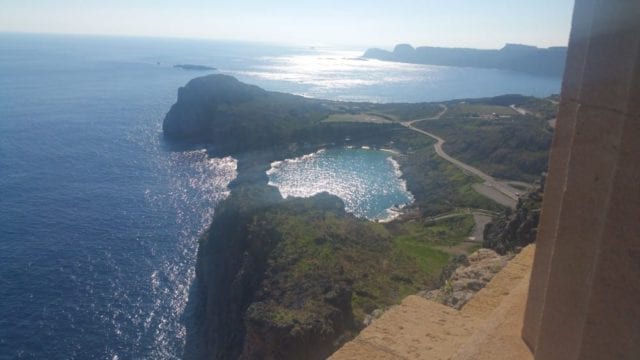 Facilities At St Pauls Bay In Rhodes
The bay is only a 3 or 4 minute walk away from The Village Of Lindos, so in all honesty you will find a lot in the way of restaurants and bars to take a bite to eat or have a drink!
Around the bay itself you will also find a couple of small tavernas which will offer simple snacks.
There are also sunbeds, toilets and a good car parking area to make your stay more enjoyable.
St Pauls Bay in Rhodes: Overall
In my opinion, this location is one of the nicest places to come and relax.
There are of course other beaches such as Lindos Main Beach and Tsampika Beach. These are great too, but they really attract the big crowds. This is not a bad thing, but if you are looking for a quiet place to enjoy the sun and have a swim, I would choose St Pauls Bay every time.
Just for a little trivia, here in the bay you will see a small cave that was actually used as one of the filming locations for the movie The Guns Of Navarone! Did you know that? 🙂
Watch The Video And See Some Stunning Views Of St Pauls Bay In Rhodes
So, have you visited Rhodes and experienced the beauty of St Pauls Bay? Are you planning a visit to the island?
Either way I would love to hear from you. I welcome all of your thoughts and it is always nice to know what you think!
Just leave me a comment below and I will get right back to you.
Learn Lots More About Lindos And Its History. Click Below To Continue Your Tour.