In my opinion, Lindos Beach in Rhodes is one of the nicest beaches on the island. Although this is the case, I feel there are some things that you need to be aware of should you decide to venture here as part of your stay in Rhodes.
I have personally been to this beach on many occasions. When I have had the time to relax and I have been in the area, I have always tried to make this beach my number one choice.
Despite this, I have come unstuck on the odd occasion too. There are ups and downs, positives and negatives, good and bad, however you want to call it, so Let's take a look in some more detail!
The Location Of Lindos Beach in Rhodes
Yes, it goes without saying that Lindos Beach is on the island of Rhodes in Lindos. It lays down the East coast of the island and just a little over 50 Kilometers south of The City Of Rhodes. By car, it is about a 1-hour drive, just to give you an idea!
Once in Lindos itself, the beach is only a few minutes away from Lindos Village by foot.
There are actually two beaches in Lindos. The main one is called Megalos Gialos (Μεγάλος Γυαλός in Greek) and this means 'The Big Beach!'.
The other is referred to as 'Lindos Pallas Beach' and you will find this one somewhat smaller in size than the main beach and a lot quieter too. So, if you like peace and quiet, opt for the second one.
Enjoying The Beach In Lindos
The main beach is made up of beautiful golden sand. As you walk into the sea you will find it is very shallow and it is crystal clear blue in color. As you venture a little further out you will notice that the sand falls away and the surface becomes rocky and with pebbles beneath the surface of the water.
You can walk quiet a long way out long before the water level reaches waist height too. This is really great if you visit with children as the shallow waters allow them to play without fear of them going under!
When it comes to services at Lindos Beach in Rhodes, they are plentiful. You will find sunbeds and umbrellas available to rent for the day (for a small fee), showers, changing areas and water activities. You can also hire small motor and pedal boats to enjoy the water away from the coast line!
There are also places open to take a snack and a drink should you choose to. The beach bars in this location are really nice to visit and very friendly.
To top it all off, you can lay on the beach, swim in the water or relax at one of the bars while soaking in the magnificent view of The Acropolis Of Lindos and its white village!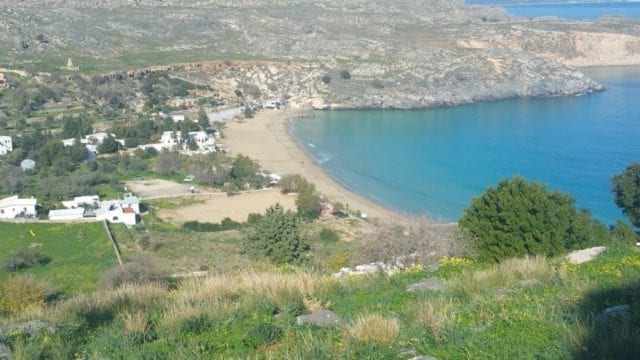 Things To Be Aware Of
The beach is actually at the bottom of a steep hill which runs from the village of Lindos and through the parking areas.
There is not a lot of space when it comes to actually parking at the beach and most of the time you will need to park at the top of the hill and walk down!
This is fine, until you decide to finish your day at the beach and you need to walk back up the hill. It is steep, and tiring. I have done it a few times and it has left me short of breath. I do not consider myself unfit at all, but it tested me.
This is something to think about if you are with older people and/or children! Also, bear in mind that it gets really hot in Lindos and it is not uncommon to have temperature over 40 Degrees Celsius. Not fun at all when needing to walk uphill.
Kicking The Rocks
You may wonder what I am referring to here when I talk about 'kicking the rocks'. This is something I have done and it is damn painful.
Be careful when swimming in the sea at Lindos Beach in Rhodes. Once further out in the water, there are some huge rocks that actually sit at a height just under the surface of the water. Because you are in deeper waters by this point, they can take you by surprise.
I was swimming there a couple of years ago and as I did so, I kicked one of these rocks without realizing it was there and took the nail of one of my toes. It goes without saying the rest of my day was ruined. So watch for them!
Take Care With The Heat
Like I have said already, it gets really hot in Lindos especially in the high season. With this, the sand on the beach can be scorching hot.
I remember one time I was relaxing on the beach. It was really hot and I decided to go in the water for a few minutes to cool down.
As I got off my sunbed and went to walk across the golden sand to the shoreline, (stupidly as I did not take any footwear), I learned my lesson fast.
Serious burns on the soles of my feet was the result and it took all the skin off!
I had to go to hospital and I needed a few days off work too. I was not able to stand for nearly 1 week. So, do not be stupid like me, take some beach footwear with you as the sandy surface burns in the heat.
Also, it goes without saying, look after yourself and your loved ones. Make sure you have plenty of sun cream, sun hats and lots of water. You will be grateful for them.
By the way, I kicked the rocks and burned my feet on separate visits, not at the same time. So, there is some good news within all this too 🙂
Lindos Beach in Rhodes: Overall
Despite the steep hill, the rocks and the hot sand, this is a wonderful place to stay and relax for a day. All the facilities are there for you to have a really nice time and you will see holiday makers from all over the world enjoying this area.
Because of its setting, if you decide to visit, 'go early'. If you leave it until later in the day you will not find space on the beach! It is very popular, especially with people from the UK and from Italy. Arriving early is important!
If you decide to enjoy Lindos Beach In Rhodes for a day, you will not be disappointed!
Watch The Video For Some Lovely Footage Of Lindos Beach In Rhodes
So, I will leave you to continue your tour around Lindos. Use the tour buttons below to have a look around.
Of course if you have any questions just leave them in the comments below and I will get back to you.
Learn Lots More About Lindos And Its History. Click From Below To Continue Your Tour.