When it comes to using the buses on Rhodes it can be a little confusing sometimes. Especially with the language barrier there is for some people, it can be quite a daunting task trying to figure out how to get where you want to go and which bus will take you there.
Here, I want to talk to you a little about the bus service in Rhodes. This way you will have a better understanding of what to expect should you visit the island.
All the buses on the island start at the Central Bus Station in Rhodes Town. From here you can get pretty much to any destination you wish to visit. You can buy your tickets from the bus station or you can buy them from the driver when you board.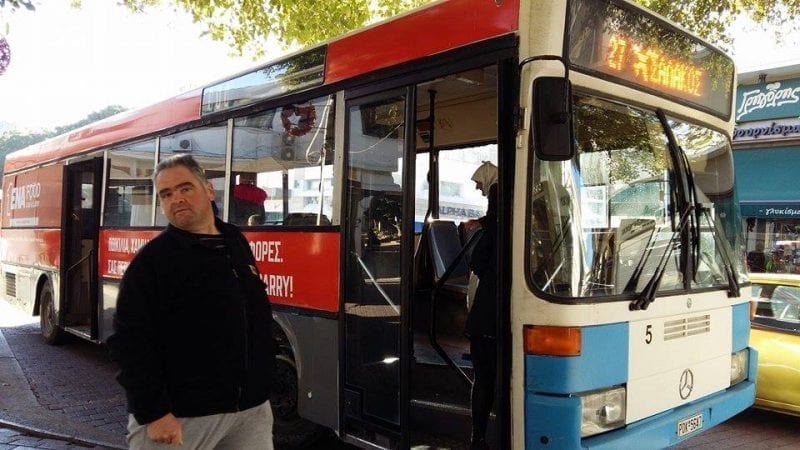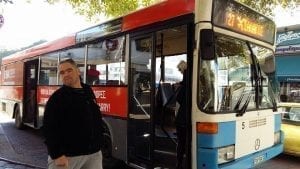 This was the photo I took at Rhodes Bus Station that I wanted you to see, and the driver wanted to be part of it all! Say hi 🙂
The buses are operated by two companies namely KTEL and RODA. The buses provided by these operators are pretty good in the way of being maintained and most of them have air conditioning. On saying that there has been an occasion or two when I have used the bus and the air conditioning as not been working, so something to think about!
During the summer months the buses are quite frequent and usually you will see one pass every 15 minutes or so. of course the buses rule applies here, sometimes you wait for one bus – then two come together 30 minutes late – you know the rest of the story!
One of the major issues with the bus service here in Rhodes is the sheer number of people that use them. It is very cost effective and due to this you can be met with large crowds once you board.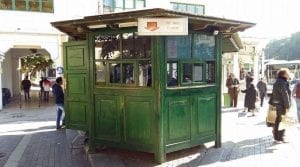 On occasions the buses are so full they will not stop to allow more passengers on, and they will display 'Bus Full' on the front so people know the reason why it  past them. That is assuming nobody wants to get off of course 🙂
If you do manage to board a bus that is pretty packed out with people you will hear the driver shouting at everyone to make their way to the rear of the bus to allow more passengers to board if possible. Normally the driver of course will be shouting in Greek and also in English, but if you are not sure what he is saying at any time you can assume it is for this exact reason 🙂
The Bus Stops on the street are marked and they are not difficult to miss on all honesty. On most there is also an English translation underneath the Greek so you will know what you are waiting for. You can see an example here on the right! Straight forward eh!? Most of them display a timetable for that particular route you are on as well! And yes, this bus stop shown on the right is down the road from my home, it is mine 🙂
A Downside
A downside of the bus service here in Rhodes is that you can't get where you want to go directly, unless you are in Rhodes Town. This makes getting around Rhodes somewhat difficult sometimes when choosing the bus as your transportation method.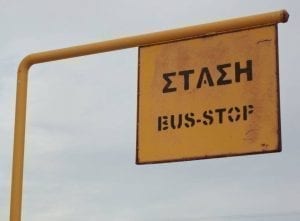 For Example
If you arrive here by plane and need to take the bus to Faliraki, there is no bus service from the Airport to Faliraki. In this case you need to travel in the opposite direction in which you want to go, get to the main bus station in Rhodes, then change for the bus to Faliraki.
What is actually a relatively short distance will in fact take you up to 2 hours to achieve.
This is a common problem when you are living on one part of the island and need to travel, sometimes having to change bus in Rhodes City cannot be avoided.
On saying that, most of the time you will get a good service with the buses, and hey, there is nothing like meeting the locals too right? 🙂
If you ever need a timetable or general information on the bus schedules the contact numbers are here!
KTEL – +30 22410 27706
RODA – +30 22410 26300
I have also made an up to date copy of the current timetable too for any of you that might find it useful 🙂
Click Images To Enlarge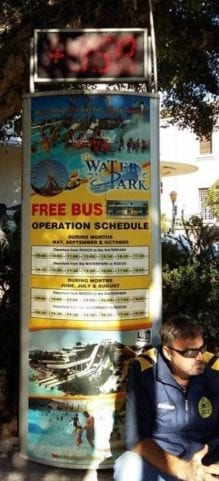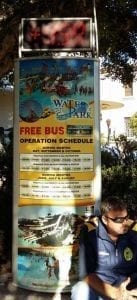 You will also find a special bus service from the bus station in Rhodes which is dedicated to journeys back and forward to the Water Park only! This is a common bus as the Water Park is very popular so you will have no trouble getting there should you wish to visit. You can see the photo here which offers more information with regard to times and frequencies! Just click on the image to see a bigger picture. It will be more clear for you 🙂
The Taxi Conspiracy!
Well, you have probably heard me mention the taxis already, but this is something I did not mention earlier.
While you are waiting for the bus to pay for your 2 Euro journey to Rhodes Town, you will see Taxis stopping and trying to lure people in to take them instead for 5 times the price. As I said before, they are trying to make a living, but this is not allowed. If the police catch them they are in for a heavy fine. Something you should maybe be aware of!
So, from here, you should have a better understanding of how the bus service works here in Rhodes.
If you need any more information let me know. Maybe you have visited Rhodes before and have something to share with us about your experiences? I would love to hear from you all!
Just leave a comment below and I will get back to you!
Learn More About How To Get Around Rhodes. Click From The Options Below.