You will remember that we have already talked about The Rhodes Archaeological Museum within The Medieval City section of this website (see the The Archaeological Museum In Rhodes page). There we covered the structure itself, why it was built and where it was located.
Here though I just want to offer you a taste to the works of art that can be found here and allow you to see why this museum attracts thousands of visitors every year!
This museum is famous for the displays of some compelling and symbolic works. These include Sculptures and Paintings, and a few of them I will now discuss here.
Helios (The Sun God)
A marble head of Helios (The Sun God) is on display here which was found in the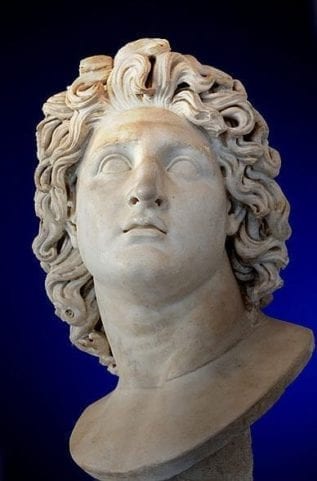 Castello area of the Medieval City. See The Grand Masters Palace for more on the Castello.
It has been said that the temple of Helios was located in this area and the head was actually found next to one of the Knights Inns. It was the Inn Of Provence, which is located on the right side as you walk up Ippoton Street, also known as The Street Of The Knights.
There is good reason for this, as the ancient temple of Helios is said to have been in this location!
Ancient Statues
There are also a couple of ancient statues on display within the museum. They are full size and made of stone and are referred to as Kouroi. The word Kouros in Ancient Greek actually means "male boy/male youth', and  Kouroi is the plural tense.
These statues depict these young males who are without clothing and in a forward motion stance.
They were found in The Ancient City Of Kamiros and are from the 6th Century.
Aphrodite
In the museum you will also found 2 breathtaking and incredibly beautiful statues of Aphrodite. She is the Greek Goddess for Beauty, Love and Pleasure.
One of them dates back to the 1st Century and is made of marble. It portrays Aphrodite in a kneeling position after coming from the ocean and her arms are elevated up so she can squeeze the water from her hair with her hands.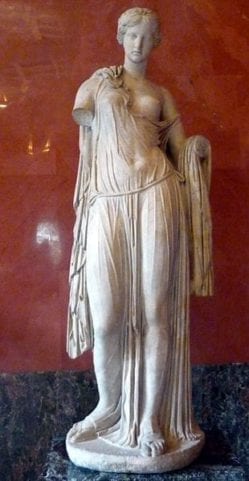 The other statue is called the Thalassia. The Greek word Thalassa actually means Sea, and this comes about as originally Thalassa was an evil spirit of the Sea!
This second statue was actually found in the Sea, hence it's name, and it dates from as early as the 4th Century.
It was raised from the west of the island and stands nude and as tall as an average size human being.
Timarista And Krito.
This amazing artifact portrays a mother and daughter. It tells the story that they are
about to be separated eternally and Timarista is holding Krito, while Krito is touching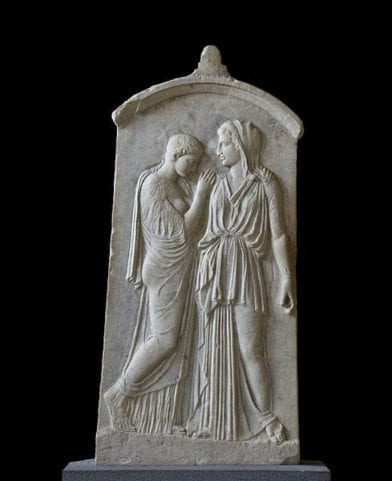 her mothers shoulder. The hair of Krito is short which displays a sign of grief.
This display was originally taken from The Ancient City Of Kamiros Cemetery and it dates back to the 5th century BC. It is what is known as a 'Stele'.
The word Stele refers to a stone slab (or wooden for that matter) and mostly they are taller than they are wide. These slabs were used in the old days for funeral and memorial reasons.
Other Artifacts.
Throughout the museum you will find hundreds of other interesting objects. Ancient coins are on display which date back to the reign of The Knights. There are lots of engravings from early days also here to see.
Also, other objects have been found from ancient cemeteries such as in Ialyssos. Items such as old pottery, amulets and jewelry can all be witnessed here in the museum.
You can even see some of the coats of arms that have survived from the graves of The Knights.
Conclusion.
I know I can sometimes appear to be repeating myself, and I promise I do not mean to, but – although I sit here and try to demonstrate what the museum has to offer in the form of writing and pictures, it will never be able to highlight what it is like in real life.
To see this place, and to be in the presence of all these ancient findings really does take your breath away. As you walk around the history touches you, and you travel back in time with little to no effort at all! It really is a fascinating and extraordinary place to see.
So what do you think? Is it something that might interest you? Have you been here and seen it?
Either way I would love to know what you think, so just leave me a comment below if you have something to share. Also, if you have any questions just let me know, and I will be happy to help you out!
Thanks for reading!
Chris
Come And See What Else Rhodes Has To Offer. Select Your Choice From Below!