One very beautiful location and one you should not miss out on is The Seven Springs in Rhodes. Also known as Epta Piges or Επτα Πηγες (in Greek), it is in a gorgeous setting within beautiful deep woodland with amazing flowing waters which ultimately lead to a small lake.
Within this beautiful setting you will have the chance to see and come close to lots of wildlife such as Peacocks, Tortoises and Geese. You will also find Crabs and Fish making their way through the springs!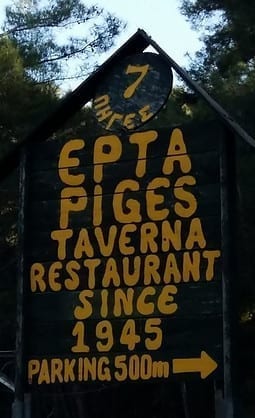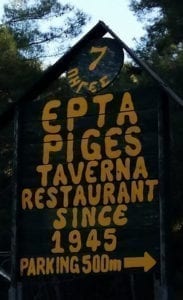 You will find this area located approximately 30 Kilometers South of Rhodes City as you head down the East coast and a little over 3 Kilometers inland from an area called Kolimbia!
Believe me, this place is a real treat and can also be ideal to escape the hot sun.
So. Why Visit The Seven Springs?
In my opinion, if you want to enjoy nature at its finest and escape the hustle and bustle of the cities and villages, The Seven Springs is the perfect place to come and get away from it all.
As with Rodini Park and The Butterfly Valley, this area really takes you into another world.
Here, you can take a relaxing walk along the forest paths and have a dip in the fresh water lake. This area has been described as quaint, charming and colorful place by many who have visited and remains a favorite for a lot of tourists and locals alike.
I have been here on many occasions and I absolutely love it.
After you have finished having a look around and spent a peaceful time, there is a lovely small area where you can take a bite to eat and a drink, as well as a place to pick up some souvenirs. It is a really great day out!

The Purpose Of The Seven Springs
The name 'Seven Springs' of course suggests that there are seven different water supplies, and they ultimately join and flow into a lake. These seven different natural springs provide unlimited water all the year round, even during the hot summer months when the temperatures are soaring.
The lake (where all of the waters gather and round up) is actually a man made lake. It was built by the Italians during their occupation of the island and it is kept full by use of a damn. This water supply was then ultimately used to supply the area of Kolimbia with fresh water.
From the springs (and the Loutanis Lake), the water flows through a long tunnel which was constructed back in 1931 and runs for 186 meters in length. This is a really wonderful set up and has proved very popular with the tourists! You will see why to!
The Attraction Of The Springs
As you follow the path of the water, you will come to the tunnel which ultimately allows the flow of water to the man made lake.
Now, this tunnel runs underground through the forest and it stands to reason that it is very dark inside. What you will see a lot of people doing (and you are welcome to join them), is kicking off their shoes and socks, and stepping into the flow of water and walking through the entire length of the tunnel to the other side.
I have done it, and it was amazing. I had great fun!
The water flows over your feet at ankle height and it is quite tight inside, so you need to walk one person behind the other. Having a torch can be beneficial too. For those who are claustrophobic, just know that about half-way, there is a widening in the tunnel which serves as an air shaft. This is a great place to take a small break.
It is an exciting journey through, but can be quite frightening if you are not used to tight spaces. Of course if you have children with you, be on the look out for them as it might give them the creeps!
If you are not the type to take on this journey, you can also go to the lake by walking through the forest on the designated path!
Once at the lake you are welcome to take a swim. Also, for you to know, this lake is the only place on all of the island where you are able to swim in complete fresh water.
When To Visit
The area of The Seven Springs is always open and you are welcome to visit any time, be it during the summer or the winter time. There are no entrance fees to pay either.
The restaurant and souvenir shops only operate during the summer months, so if you want to make use of these you will need to plan ahead. There is a good parking area too where you can park your vehicle without charge!
I have listed some contact details for The Seven Springs here should you need them!
Seven Springs, Archangelos, Rhodes, Greece, 85102
Telephone – (+30) 22410 56259 or 56417
Email – info@eptapiges.com
Overall
Personally, I think everyone should experience this setting if you are on the island of Rhodes. It is quite wonderful.
The nature, the wildlife, river and the exciting tunnel will offer you a really great time and it is perfect for getting out of the heat and away from the busy areas for a while. 10 out of 10 for me!
If you have any questions feel free to leave them in the comments below. I will get right back to you.
Thanks
Click Below To Continue And Learn More About The East Coast Of Rhodes