One location that is popular when discussing areas to stay is Kolymbia In Rhodes (Κολυμπια in Greek). You will also see it written as 'Kolimbia'
Located just under 23 kilometers from the city of Rhodes down the East coast, this is an area very popular with holidaymakers.
I actually have a lot of people contacting me asking about the best places to stay while on the island too. Of course, you cannot only think about your hotel or accommodation, you need to bear in mind facilities in the local area, and how far away you are from different places and other things of  interest.
In this section, I want to talk to you about the area of Kolymbia and what is on offer. This way you can make up your own mind!
So, let's get started shall we!
The Local Area
Kolimbia Village sits beautifully in a rocky mountain landscape. This makes for some wonderful photographs as the rocks and mountains meet the beaches and the sea water beautifully.
From the main road (called the Rhodes – Lindos Road), you enter the village by taking the long street all the way towards the beach area. This street is called Eucalyptus street, as when you drive or walk down it, you can see hundreds of massive Eucalyptus trees running the entire length on each side.
This street was built by The Italians during their occupation of Rhodes.
As you near the end of the street you will see the beach of Kolymbia open up in front of you. Along the way you will see lots of places which will make your holiday all the more enjoyable. There is a lot available when it comes to restaurants and bars and you will find many outlets to Rent A Car or Moto should you wish to.
In my opinion, if you want to see the island and not be one of those that sits around in the hotels all day, renting a car is a great way to see the island.For me, I would much prefer to get around and see the different places.
While Kolymbia offers nice accommodation and some friendly outlets, it can be limited. If you are staying for many days, you could easily become tired of doing and seeing the same things.
Hotels Hotels Hotels
The first thing you will probably notice about Kolymbia (Κολύμπια) is the massive number of hotels all around the area. To be honest, the skyline is dominated by them.
You will discover most of them are 5-star luxury establishments and you will not really turn a corner without seeing one. A little joke I have with my friends here, is that if you are an architect – you will love it here!
A lot of the hotels have agreements with the big tour operators such as TUI, Thomas Cook, Neckermann etc, so in the summer this area does get very busy, and most of the time they are fully booked. With this in mind, I would not turn up at the last moment and try to find accommodation in this area. Booking in advance is always recommended, especially in the high season!
As always, when you visit holiday areas like this, you can easily see a lot of money has gone into making Kolymbia very beautiful. The hotels are like palaces and they are kept spotlessly clean.
My opinion still stands though, because they are all-inclusive, people arrive for their holiday, go into the hotel, stay there and do not leave again until their holiday is finished. Of course this does not apply to all people, but the all-inclusive arrangement offers most things you need. 'Food, entertainment, leisure etc'. It is enough to stop people going out and actually seeing the island!
You will be happy to learn (I was anyway), that there are also some smaller family run villas where you can stay to enjoy your holiday. I always prefer this option, as you will get a more personal and friendly service for sure. Some people prefer to give their money to the locals rather than some of the huge worldwide companies.
After saying all this, when it comes to beauty, Kolymbia is quite a lovely place. Whatever your fancy is for accommodation, you can find it here.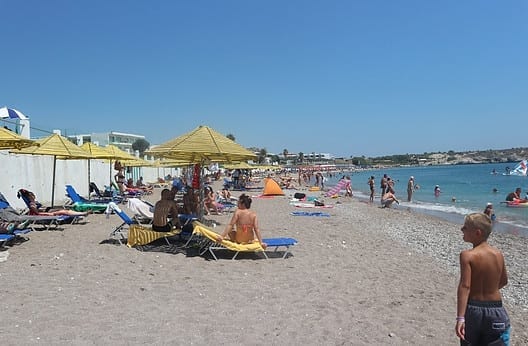 The Beach In Kolymbia
Although not a massively popular beach (with the exception of people staying in the area), it really does offer everything you need to have a nice relaxing time.
The beach is quite large and extensive and all the facilities you could want are there. You can rent a sunbed and umbrella for a day and you can stay as long as you like. There are small snack bars to enjoy a drink and a bite to eat and there are shower and toilet facilities too.
There is also a smaller sandy beach area for children where the water is nice and shallow offering more peace of mind.
You will find the beach overall very peaceful and quiet. There are other beaches nearby (and better) but you will find them very crowded. If you want peace and you are staying in Kolymbia, I do not think you will be disappointed.
Just be aware, that this is an area with huge hotels. Some of these have the rights over certain areas on the beach. It is easy to understand these areas though. Please do not fret about this, as the beach is big enough for you to find a perfect place to enjoy your time! (it is probable that if you are staying in Kolymbia, you will be a guest in one of these hotels anyway).
You will also be pleased to know that from the beach, there are areas where you can go snorkeling, do some water sports and even do some fishing.
The Village Limitations.
Although Kolimbia is quite an attractive area and full of beautiful hotels with a great beach, it does have its limitations.
Personally, I could not stay in Kolymbia for the whole duration of my holiday and not want to see venture out and see something else.
Except for a few tourist shops, there is very little in the way of shopping facilities. There are some nice restaurants, but there are better ones on the island. There are some places where you can go for a drink, but if you want something with a little more kick, you would need to venture out and about.
For shopping, the best place of course is in the city of Rhodes. Aside from that, you also get to see some beautiful history in the area and you can make a great day of it.
The restaurants and bars in Rhodes City too will give you a real taste of what Greek Cuisine is all about. This is not always something you find (with quality at least) in smaller tourist areas or in your all-inclusive hotel! (My opinion of course).
Also, Kolymbia does not have any nightclubs. So if having a night out on the town is your thing, again you will need to venture outside the village. For the nightlife, people tend to head out in the Faliraki direction. Here you will find no end of options when it comes to dancing the night away!
If you are happy with simple entertainment though and do not want to go to far away from home, then most of the big 5 star hotels do have organized shows. Again one point though, if you are staying for any length of time, you will see most of these events are repeated!
Overall
Yes, I like Kolymbia. It has some beautiful views and places to stay. I would never say something bad for this area. I think it offers a great chance for people to enjoy a good holiday.
While I say this, I do think an easy trap to fall into is not to see the rest of the island. Because of the infrastructure of the hotels and the way the 5 star resorts 'provide everything', it deters people from getting out and about.
If you are willing to stay in this area, enjoy the beach and some of the bars and restaurants, then this is great. Just be sure to make use of a rent a car or other transport option, and do not miss the beauty the island as a whole has to offer.
The only thing I recommend you keep an open mind with, is how you move around. I know a lot of people take a taxi to get to where they want to go, but if you wanted to see Lindos or Rhodes City for example, and you take a cab from Koliymbia, you can end up paying a lot of money. I will not tell you not to take a cab, but just be careful with your hard-earned cash!
So, what are your thoughts? I would love to hear from you. Have you been to Rhodes and stayed in one of the 5 star hotel resorts in this area? Have you been on the beach in Kolymbia? Maybe you are looking to plan a stay on the island and have some questions about this tourist location?
Whatever your thoughts and questions are, tell me. Leave me a comment below and I will get right back to you.
Click Below To Continue And Learn More About The East Coast Of Rhodes