One of the main holiday resorts and one that is very popular with tourists is the area of Pefkos In Rhodes.
Pefkos is also known as Pefki (In Greek – Πευκος/Πευκοι) and you will find it located a little over 55 Kilometers South of Rhodes City down the East coast of the island. It is also not far away from the village of Lindos (about 4 Kilometers). It is a short distance and easy to get to.
The Name 'Pefkos' actually means 'Pine Tree' and the village gets its name from the sheer volume of these pine trees which you can see all over the area. So, Pefkos is Pine Tree, and Pefki is the plural – Pine Trees.
Of course, I have my own views on this area, and you are entitled to yours too. Here, I will tell you what it is all about, a little about Pefkos in days long past, and what the attraction is that makes this place so popular today. You can let me know your thoughts later on.
A Little History On Pefkos.
There is not a great deal to tell you here if I am to be honest. I have some friends that own a bar/restaurant in this area, and I asked them a little about what it was like years before, and they told me.
Years ago (before the 1970s), this area was not so popular to the tourists and there was little here back then. It was a haven for fisherman as it sits on the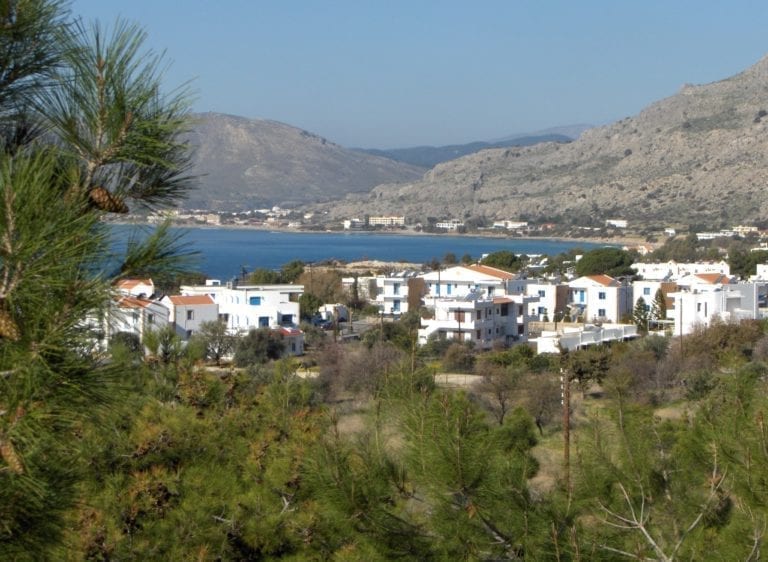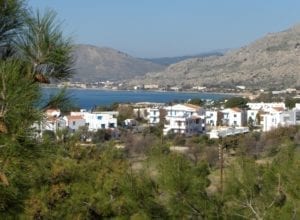 coastline, and a lot of people also used to come from all around the island and stay here to grow their crops. It was simply too far from them to travel on an everyday basis, so they set up small apartments to stay in as and when required.
The area was famous for olive growing too and people had land for producing and distributing foods such as tomatoes and grapes.
My friends also told me that times were hard back then. People used to break sweat to earn their living and put food on the table for their families. These days seem to be long forgotten, and when you look at Pefkos today, you do not see much trace of this previous life of the land owners.
It also known that back then, there was nothing in the way of electricity and running water. There was only the sun, the sea and the sand.
Nothing stopped the Greek people from taking their relaxing times though. Despite lack of facilities, thousands used to abandon their homes and come and stay in Pefkos to enjoy the summer months, Of course, this was before life started to get in the way. Nowadays, people have to stick to their routines to survive.
Pefkos In The Modern Day
As the 1970s came along, the area of Pefkos started to attract the tourists. As the years passed and the 1980s approached, a lot of the tourists that visited the island wanted to do what the Greek people were doing. Basically to enjoy the sun and never mind the facilities or other obstacles.
As this trend continued people slowly began to develop the area. The more people that came, it was understood by some that having a place to lay your head in the night would be beneficial. Here and there small dwellings were set up and were available to rent.
As time went by, more facilities started to take shape. Small shops and outlets were made available for people to buy small snacks and the odd souvenir or two. Then a restaurant popped up, then another shop and so on.
It was indeed something of a simple project, but it never stopped there. It continued to grow and these days tourists in their hundreds of thousands visit Rhodes and stay in Pefkos.
They are greeted with hundreds of shops, bars, cafeterias and restaurants. There are also countless villas now available to rent.
The one thing I particularly like about this area, is that most of the accommodation is self-catering and it is a world away from the 'all Inclusive' setup. Because of this, there is a great atmosphere in Pefkos, as most people venture out of their villas and soak up the fun and excitement of the local area. This is really great as it keeps open the local run family businesses.
Pefkos Beach
The main beach in Pefkos (also known as Lee Beach) is a really great place to relax and hang out during your stay.
It contains all the usual facilities such as sun beds, umbrellas, toilets and a place to change your clothes. It is a wonderful location to enjoy the beautiful blue waters and to catch a lovely tan.
This beach has also been given a Blue Flag Award which is a certification from the Foundation for Environmental Education (FEE). This basically declares that the beach and its waters are perfectly clean and safe for you to use with peace of mind.
It is a lovely sandy beach and the water is very shallow as you wade your way in. You can make a gentle walk into the water without fear of the ground falling away from you under the water level. This makes it ideal for people visiting with children.
There is an ample car parking area for people who arrive with wheels and the beach is also easily accessible by foot too. Here you will also find plenty in the way of restaurants and bars/cafeterias so there is no problem with you finding refreshments.
For those of you interested in undertaking water activities, you will also find outlets on the beach where you can hire jet-skis and speedboats.
Because of the area it is in, and the amount of people staying in the area, the beach can become quite busy. This is not a problem though as there is a lot of space and it offers a great atmosphere.
Watch This Great Video For Some Stunning Views Of Pefkos!
The Tourism In Pefkos
Many people ask whether or not Pefkos would be ideal for them.
For sure there are lots of bars and clubs, so would this be ideal for an older couple that are not really into the bar scene? Would it be a perfect place for children?
Well, fear not here. The way this area is laid out, it suits everyone.
It is actually quite a large area and yes there are nightclubs, bars etc. But you go where you want to go.
The last time I was there, I was amazed to see everyone having such a great time. There were children playing, people singing and dancing, others enjoying a meal, more in the bars and so on.
It all fits together really well and everyone can enjoy a great time! It is with good reason that Pefkos is as popular as it is.
What would you prefer here?

An all-inclusive hotel so nobody goes out or even take the time to enjoy a local restaurant, bar or the beach?
Everyone enjoying the local family bars and restaurants and creating memories, experiences and friends you will never forget?
I know which way I would go.
Overall
I love Pefkos. I think it offers the ability for people to meet each other and come together to make your stay really enjoyable.
I love the atmosphere because everyone goes out to have fun. The beach and the water activities make it a great location too, as do the sheer number of shops and outlets that provide everything you need.
It is a very peaceful place during the day and you will see most people relaxing. By night though, the place really lights up and everyone is eager to have a really great time.
It is a warm and friendly place and everyone is welcome.
If you want a true Greek experience and lots of enjoyable moments, Pefkos is a safe bet.
So, what do you think? I would love to hear from all of you. Maybe you have had a holiday here in Rhodes and stayed in Pefkos? Maybe you are looking for more information for a future trip?
All of your opinions and thoughts are important to me. Just leave me a comment below, and I will get right back to you.
Thanks
Click Below To Continue And Learn More About The East Coast Of Rhodes.