One of the focal points for tourists while visiting the island is Lindos Village in Rhodes.
In my opinion this is with good reason too. Only a few days ago I took a trip there myself to take some photographs (which I will show you here) and I am always amazed when I see this historic and beautiful location.
I have lived on the island of Rhodes for many years now, but I never get tired of visiting Lindos. There is always something you miss, no matter how many times you see the place.
Situated down the East coast of the island and a little under 50 km from Rhodes Town, it is considered to be the gem of Rhodes. Believe me when I say, it is an absolutely breathtaking location!
Now, I do not know about you, but I have looked around the internet and seen lots of information about Lindos. Some of it is brief, some of it swamps you with history and some material can even be quite confusing.
Here though, I want to take you on a tour of The White Village. I will talk to you about what I think based on my own experiences. For the history, please see The History Of Lindos In Rhodes section.
Lindos – My Advice To You
Before you decide to visit Lindos I really recommend you wear a nice pair of comfortable shoes.
In the village itself, you will find there can be a lot of walking to be done if you want to see most things, and some of it will involve making your way up and downhill.
If you do not have good footwear it can spoil your experience. There is nothing worse than being able to see a historical place like this, only for it to be destroyed because you have sore feet.
Walking up to The Acropolis can be quite a challenge for some people too, so do not get caught out!
Also
When visiting Lindos, it would be crime to forget your camera. Make sure your camera (or your cellphone with a camera) is fully charged and ready to go. You are going to need it. There is a lot to soak up here, and you will not regret having amazing photographs to look back on from your visit.
Important
Protect yourself from the sun too! You will find that Lindos gets very hot, especially in the summer months. Like I say, I was there not long ago (in December) and even then I was sweating from walking up the hills and the heat.
You need to be ready. Make sure you have sun cream, a sunhat and lots of water with you. You will be thankful for them later.
Lindos Village in Rhodes: The Village
Lindos was founded by The Dorians back in 2000 BC (approximately). The area was utilized well as it offered a good vantage point looking out over the waters and it had a solid harbor too. This was perfect for the protection against pirates during that time.
The island of Rhodes in the past has been occupied by many forces. In the history section of this website, you will see I have talked about the presence of The Ottoman Empire, The Roman Empire and more recently The Italians!
Because of this, Lindos really does contain elements of all these periods (and more) making it a unique and special place to see.
Even today, you can still witness the old cobbled and narrow streets that make up the village. Because of these cobbles, this is why I suggest good footwear for your visit.
The one thing I like about Lindos, is it is one of the few places on the island you can walk around without the challenge of traffic.
Cars and motor transport are not allowed in this area, so you can walk around freely without having this in your mind.
The other option (which I am against personally) is to see the village with the aid of a Lindos Donkey.
A lot of people use these as a way to get around. You pay a small fee (I do not know the price as I have never, and will never use one) and you can ride a donkey with a guide and they will show you around and even take you up to The Acropolis.
Personally I would prefer them to be left alone, and let the people walk around themselves and get some exercise, but I will not rant here!
The Buildings In Lindos Village
As you make your way around the streets of Lindos, you cannot help notice the old and historic structures that line all of the streets.
Lindos is considered a national landmark, so over many years the essence of the
village has never changed. All the old buildings are stonewashed white and are from the 17th and 18th century.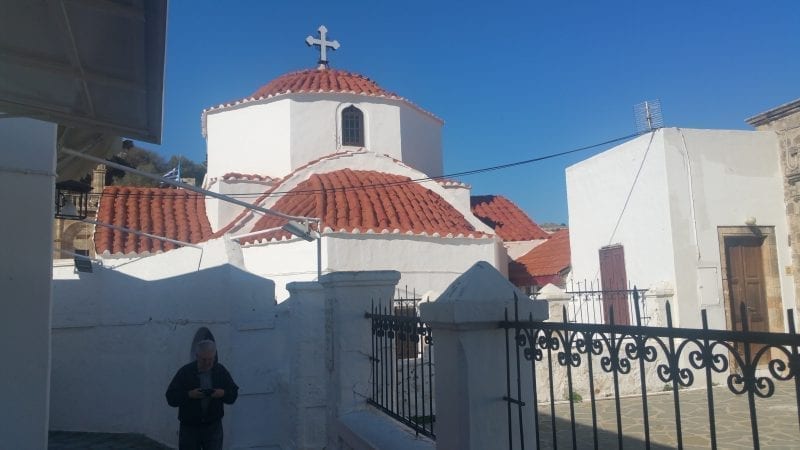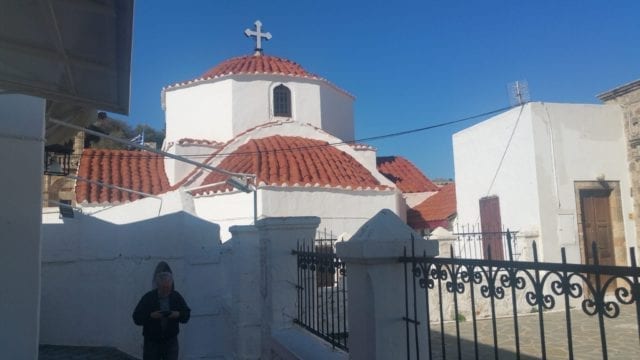 Although some of these dwellings are now owned and lived in by wealthy people during the summer months, some have been turned into guest houses.
Should you have a few extra coins you are welcome to stay in one of them!
Personally, I love the fact that most (nearly all) of them have kept there original shape and meaning. Of course with time, work needs to be done in the way of restoration, but this has in no way marred what Lindos stands for!
The village is very authentic and it is protected by a preservation order!
Lindos Village in Rhodes: The Church Of Our Lady
As you walk around the village of Lindos you cannot help notice the beautiful Church of Our Lady (Theotokou Church) and its bell tower. Located next to the village square, it really it a focal point of this beautiful area.
It was constructed in the 14th Century (approximately) and it was actually renovated by the Grand Master D'Aubusson of The Knights Of Saint John in 1489. It was he that constructed the bell tower and even today you can see his coat of arms which it clearly visible.
This is definitely a church to stop and see. Inside it is decorated with ancient paintings and the floor is made up of black and white pebbles. It is a magnificent setting.
Here are some photographs of Lindos Village In Rhodes that I took for you. I captured these in the winter months so you could see them without the large crowds!
Lindos Village in Rhodes: The Village Today
Lindos Village has been kept in its authentic state, and there is a lot to see and do.
As you make your way around the old cobbled streets, you will see that a lot of the structures have been made into shops.
You can freely pick up all of your souvenirs from here. There is a lot in the way of choice too.
Also, you will find lots of nice Greek Tavernas where you can stop and get out of the sun for a nice cool drink or a bite to eat, and there are also some bars too.
If you want my recommendation, visit one of the cafeterias that have an open-top roof. Sitting under the nice umbrellas with a cold juice and soaking in the sun with the beautiful views cannot be beaten!
Watch The Video For Great Footage Of Lindos Village in Rhodes And The Acropolis
Lindos Village in Rhodes: Overall
To sum it all up, I love Lindos.
I love being around all the old structures, the cobbled streets and seeing a place that has stayed the same for generations. It has a really warm and friendly feel to it and it is not a place you can get bored.
There is a lot to see, and in my opinion, even if I went one thousand times, I would still miss something! A great place.
The only thing which can be a little irritating is the crowds. During the high season it can get very busy. Being jammed in like that all together and mix in the hot sun, it can make you want to leave.
That being the case, if you visit in the high season, arrive early. This way you will avoid the crowds and you can see most of the things before the sun hits its peak!
There is no entrance fee to see the Village of Lindos in Rhodes, but if you go up to The Acropolis there is a fee of 6 Euros to pay to go inside.
If you arrive by car, it is worth knowing that you need to park your car in the designated parking area where you need to pay!
So, do you have any questions about Lindos Village in Rhodes?
Maybe you have seen this amazing location and have something to share from your experiences.
I always love hearing from you all. Please leave your comments below and I will get right back to you.
Learn Lots More About Lindos And Its History. Click From Below To Continue Your Tour.