Hi there, My name is Chris Towers and welcome to my About Me page and to the wonderful and beautiful island of Rhodes in Greece.
I am 53 years old and over 17 years ago I made the decision to change my surroundings completely and came to live on the island of Rhodes in Greece.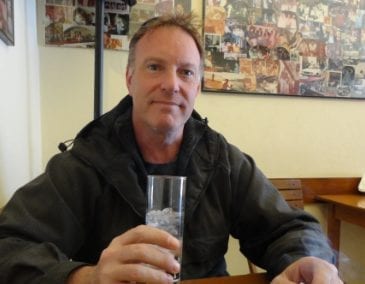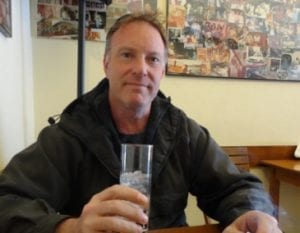 I always remember coming here on my vacations over the years gone by and forever thought it was out of my reach to get to reside on this beautiful island.
Every time my holidays were finished and I had to return to the UK to my normal run-of-the-mill life and I wanted to cry! 'Will I ever get to live here'? I shouted to myself inside!
Well I did, and I am 🙂
As well as loving Greece & Rhodes, I am a huge lover of music and also love to play guitar and have done so for many years. I am also a sucker for the sport of American Football (NFL) and watch every game if possible as well as being a collector of memorabilia and accessories. Although not really relevant, it is just another little side note for you to know about me 🙂
How It all Happened!
I can say with all my heart I am happy now, but I had troubles in my past which forced me into the decision to make the change. Is this good or bad? Yes I agree we do not like troubles in our lives, but sometimes these are the situations that encourage us to make the changes we need to be happy.
I was going through a terrible time with my relationship, my job and financially!
Back in 2006 (and other times over the years) I came here to Rhodes for escape. I wanted to breathe the clean air, sit on the beach, drink my Ouzo and clear my mind.
So, that is exactly what I did. I booked a flight at the last moment for a very cheap price and arrived two days later.
It was by pure luck one night when I decided to go to a bar and meet some locals and I met this most amazing man who would later become my best friend.
He was working here at the time, and we got to talking. After some time he came out of the blue at me and offered me a place to stay, and he even found me a job should I be able to relocate. What was there for me to lose? Nothing!
I went back home after my vacation had finished, packed my bags with the essentials I wanted and said goodbye to the life that I was not enjoying so much!
So Why Am I Here Telling You This?
Since living here I have of course crossed paths with millions of tourists, some with the same dream – to live here, and after speaking to them each time I realize how lucky I am. People save so hard every year to have a holiday here, and I have it on my doorstep every day!
They all ask me how I managed to achieve the life I have now and if I can offer advice! To be honest there is little I can say except just take the bull by the horns and get on with it! You only live once!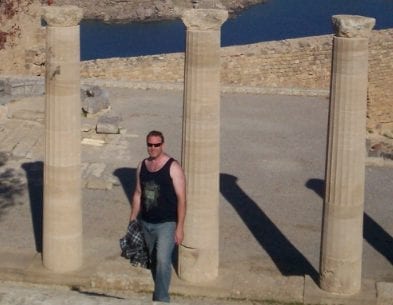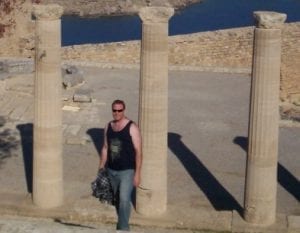 I just feel there is so much this island has to offer. Beautiful sites and history, amazing culture and traditions, the weather, beaches and delicious foods. Of course there are the downsides too, but where in the world does't have them right?
I am here to talk with you about the island of Rhodes as a whole. Do not worry, I am not here to sell you holidays, although I will meet with you for a drink if you make the decision to come 🙂
I will discuss all aspects of the island, good and bad and hope you will find this information helpful, informative and educational!
Also, I will be happy to answer any questions you may have, simply contact me and I will get back to you all as soon as possible. You can also leave a comment below and I will get right back to you.
Thanks for reading.
Chris
Founder of The Island Of Rhodes.com