Located 60 Kilometers from the city and down the east coast (and 20 minutes from Lindos) you will find the village of Kiotari in Rhodes (Κιοταρι in Greek).
I will be openly honest with you here and say I have mixed feelings about this village. Do not get me wrong, it is quite beautiful, but the one thing I do not like is that most of the activities take place inside the all-inclusive hotels. If you are not really into the beach and/or water sports, there is little going on unless you are staying in one of the big resorts.
Now, a lot of people may question why I think this, and everyone is entitled to their own opinion, so all I will say is 'make your own mind up'. Kiotari is still very
much worth visiting, even if it is just for the beach!
So, What Is On Offer in Kiotari Village?
In the village itself, you will see outlets pretty much the same as you would see in the other villages around the island.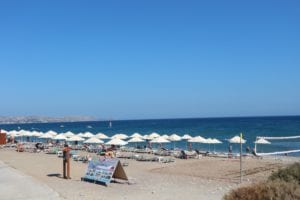 Yes, it has its restaurants and places to sit and have a meal or a drink, and you will find most of these located next to the beach. Actually though, if you wanted to buy souvenirs or a little something to take home, you will most likely find yourself venturing out of the village to find them.
With the exception of food and beverage outlets, there is little else going on. This of course can be overcome if you are staying in one of the huge hotel complexes in the area like I mentioned above.
To enhance what I am talking about, if you take a local Rhodes guide book (any of them) and look at the section on Kiotari, it will tell you what to see and where to go.
For example
Lindos is only a short drive away!
If you like Windsurfing, nearby Prasonisi offer a wonderful location to undertake your activities.
If you are in search of a little history, visit the nearby village of Askiplio and witness some lovely churches and a museum.
You see what I mean? They tell you where to go outside of Kiotari. I think this highlights what I am saying.
So to sum up, there is little going on here. Although Kiotari is referred to as a village, it is not really the case. There is nothing in the way of Greek local people living here whatsoever. It is simply hotels for holiday makers and the beach. That's all!
This is one of the negative points that hits me with places like this. Everything is all-inclusive, and so many people come to Rhodes and get their transfer from the airport to their 5 star resort. (If you see the image slider I have provided you can see the sheer size of these establishments, some of them having over 1000 rooms to let). So many then simply sit in the hotel for 2 weeks (because everything is provided) then go home again saying they have been to Rhodes. Yeah, I guess you did, you didn't see or do anything – but OK.
Of course not all people are like this (thankfully), but I feel the all-inclusive systems on the island are far too dominant. If you visit Kiotari, you will witness a perfect example of this. Because of this reason, a lot of the local and typical Greek outlets suffer as they have little in the way of customers. It's a real shame.
See The Video For Some Lovely Visuals Of Kiotari Beach
Kiotari Beach
Now, I have finished my rant on the all-inclusive system in this area.
When it comes to the beach though, I will sit and praise it. It is extremely beautiful and very large too.
The beach in Kiotari has become really popular and well visited over the last years. The fact that it possesses beautiful golden sands and pebbles with crystal blue waters makes it a number one choice for many people.
Although it is an area for holiday makers, many local people from all around Rhodes venture to this beach to enjoy an afternoon.
There is a lot going on when it comes to water sports here too. Windsurfing, water skiing, pedal boating and even simple swimming are some of the activities all enjoyed here.
You will also find many sunbeds which have been placed there for people to use and relax in the sunshine.
Note
If you have children with you, it is important to be aware when it comes to them swimming.
As you paddle out from the beach into the water there is a sudden drop. It does not allow you to walk into the water gradually for a great distance. I know this from experience as the last time I was there I hit the drop and went full body into the water. No problem, I am a good swimmer and my friends found it funny. Watch out for your children though, it can be dangerous.
Overall
Like I said at the beginning, I have mixed feelings on this area.
I am not a fan of the all-inclusive regime, but if it was not for this, Kiotari would be an empty space for the best part.
The beach is the major attraction here and it is really beautiful to take a sunset walk along the coastline. This beach all in all is over 4 Kilometers long, so there is plenty of space to have a stroll and/or to relax in the sun.
Just try not to get caught in too much in Kiotari. It would be a shame to be rooted here for all of your stay and miss out on many other important attractions around the island.
So, I will close this section here, but if you have anything you would like to share then I would love to hear from you.
Have you stayed here in one of the 5 star resorts? What did you think? Do your opinions differ to mine? Maybe you are planning a trip to Rhodes and want to know more?
All of your comments/questions are welcome and they are important to me. Just leave them below and I will get right back to you.
Click Below To Continue And Learn More About The East Coast Of Rhodes