Between Lindos and Lachania, you will also find the village of Gennadi in Rhodes (Γεννάδι In Greek). Although you will be a little more 'out in the sticks' as it were (compared to the busier areas on the island), this area really is worth seeing.
A lot of people choose to miss out on the more quiet areas and often drive through without paying much attention at all. In my opinion this can be a big mistake, and one I do not want you to make.
Gennadi is located a little under 65 Kilometers from the city of Rhodes on the East coast of the island and it offers some beautiful areas/things to see. So, let's go ahead and take a look.
Gennadi Village
What I like about this village in particular is the peace and quiet. There are little under 700 people that reside in this coastal area, so if you visit out of the summer season it can be extremely quiet. In fact, I have visited this place both in the summer season and in the winter, and there is a huge difference.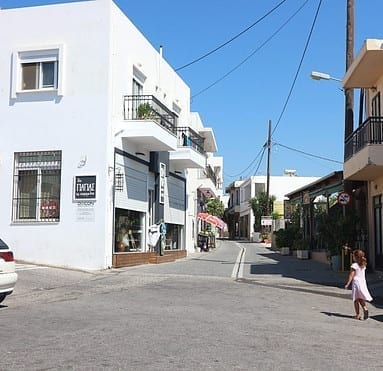 Naturally, tourists visit this area during their holidays and there are lots of villas available to rent. The village comes to life once they arrive too, and other places open up. Tourist supermarkets, places to rent a moto or an ATV and other outlets are all there to serve the locals and people staying for their holidays. These close again at the end of the summer season.
You will also find the usual places that you might need. A pharmacy, a bakery, a post office, restaurants and bars. Incidentally, the bakery is absolutely amazing and you will be able to take your freshly baked bread from here too.
In this area you will also be able to see an old olive press and there is the olive museum too. As you may know, olives provide a means of income on the island to some of the locals. They produce olive oil for example which you can purchase in most areas in Rhodes. You will see lots of small outlets all around the island selling from their small stalls olives and honey with other delicacies especially between Kolimbia and Lindos. It is worth taking notice of this old press in Gennadi too. A taste of history, so do not miss it!
As you may expect too in a typical Greek village, a lot of the old dwellings are white-washed. With this, you really do get the Greek feel to your visit even though there are more modern hotels and villas that have been put in place.
The Two Churches In Gennadi
What really makes this village special are the two Churches that stand just a little further inland. The churches of Anastasia and Ioannis Theologos.
The church of Ioannis Theologos is from the 19th Century (and has a huge bell tower) and the church of Anastasia is a 12th Century Roman church.
It is said that the church of Anastasia has actually been built on an ancient site from the 6th Century AD and was actually constructed using materials that originally made up of The Knights Of St John tower.
Let me tell you, that both of these churches are really beautiful. These are not to be missed if you are in the area. They make for some wonderful photographs as does the stunning scenery around them.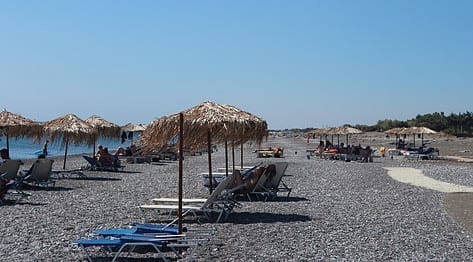 Gennadi Beach
A lot of people have asked me 'what is the beach like in Gennadi?'. It is a very common question. Why is this?
Well, there is a good reason for it. This beach in Gennadi is the most popular for people who are crazy about beach parties. These parties are put on every Sunday (during the summer) and people from all over the island come here to enjoy the music from the DJ's and to socialize in the beach bars.
The beach is basically split into two sections. One area is for the people who are happy to come and relax by the beautiful blue water and get a tan and the other is for the party goers. There are sunbeds and facilities available for people who want to use them.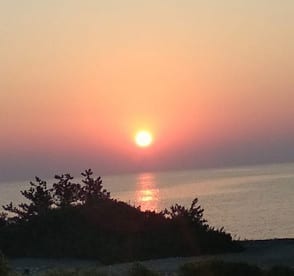 Do not worry here though, the beach in this area is absolutely gigantic. There is enough space to accommodate all and there is a wonderful atmosphere too. You will also find a couple of really nice tavernas here to enjoy a snack and a drink. Very relaxing.
One thing you need to be aware of though, is although people refer to it as Gennadi beach, it is not actually in Gennadi itself.
The main road actually runs through the middle of the village and the beach, so you will need to walk to go to one of the other. It is not too far and it only takes a few minutes.
Overall
I personally would not miss out on Gennadi.
Although I will admit I think my beach party days are over, the village itself and the 2 churches I have mentioned are extremely beautiful and not to be missed out on.
I have enjoyed the beach here in the past, and I do not have any problems with it. All the services are provided for you to have a really great time, and if you like dancing and some loud music then the parties on Sundays are great to experience too.
As with most of the villages on the island, you need to drive through the village to get to where you want to go. It is the only main road. So why not stop and have a look around?
Incidentally, you can capture some amazing sunrises and sunsets too. See the one above that was provided by a very nice local girl to the village named Kara. Also, there are a couple more in the photo gallery provided. Thanks for the photos Kara 🙂
Well, this is Gennadi. What do you think?
Maybe you have visited this area and have something you would like to share? Maybe you have been to the beach parties held here and had a drink or two more than you should have? 🙂 I would really love to hear from all of you out there. I love to hear from all of my readers.
Just leave me a comment down below and I will get straight back to you.
Thanks
Click Below To Continue And Learn More About The East Coast Of Rhodes