One of the main cultures is the traditional food in Greece. The Greeks love to eat, and to experience the cuisine during your visit to Rhodes is a must.
There are lots of places waiting to offer you the best in traditional Greek dining, and hey – you are on holiday, so why not eh?
Of course there are many dishes to try when it comes to dining out, so here I just wanted to tell you a few of the more popular ones so you know what to expect!
The Greek diet here is mainly the same as the Mediterranean diet, so seafood is extremely well-received as are meat dishes and vegetables, they come in many varieties too!
Popular Dishes
I am sure that most of the people that visit Greece are aching to try the Souvlaki.
This is skewered pork meat. It is generally served with Tzatziki, potatoes or with a
Greek Salad if you prefer. If you are really hungry, then why not have it all?
Also, there is the famous Moussaka, Gyros and Squid. Check out the most popular list further down.
Table Manners
One thing that is very traditional in Greek Culture is to share the food. Where traditionally you might be used to your own plate of food, the Greek system does not work like that!
Mainly the food is served on platters and they are placed in the middle of the table. This can be meat, fries, salads, side dishes and bread. From these different plates everybody takes what they want.
With this in mind it is good manners to keep your hands in view and refrain from putting your elbows on the dinner table.
When it comes to the bread, you will take the piece you want from the middle of the table. If it is too big, you break it with your hands, and put the piece back that you do not want.
It goes without saying that you do not take the bread, give it a big bite with your teeth and then put it back to the middle. You may laugh, but I have seen it done, and it was not well received or appreciated.
It is normal to sit and talk during meals too. It is also common to drink wine, Ouzo and water and generally pass the time. The old-fashioned saying of 'do not talk at the table' does not apply here. It is all about enjoying the good food and each other's company!
So what are the most common dishes here in Greece?
Feta – Of course we are all aware of the famous Feta cheese (and Goats Cheese)
Stifado – This is a rabbit or hare made dish together with onions, oregano and garlic. A very tasty meal
Kalamarakia – This is fried squid. Very tasty and well worth giving it a try.
Choriatiki – This is a traditional Greek Salad. Tomatoes, Onions, Olives, Olive oil and more – I love this and recommend it to anyone.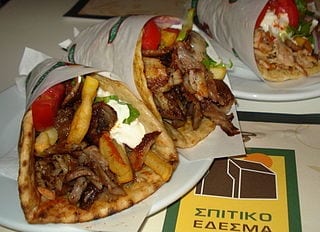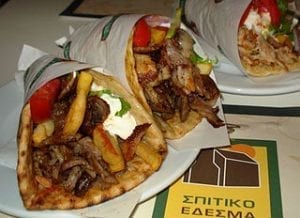 Souvlaki – Like I mentioned above – it is skewered pork served generally with potatoes and vegetables and/or a Greek Salad.
Moussaka – In Greek it is spelled Moysakas and this is a Casserole style meal made with Aubergines.
Gyros – One of the most famous foods here and regularly tried by the tourists too. It is pork or chicken meat served with Pita bread in the form of a kebab. Again this comes with a little salad and potatoes all wrapped up. Really delicious!
Well, that doesn't sound too bad does it? I mean most people would give them a try and be quite happy I would think.
What about one more dish though?
It made me squirm a little I will confess, and to this day I have not tried it, and probably won't either!
It makes my Greek friends laugh at me, but hey, we are not all the same.
Tell me what you think!
Lambs Brain!!!! – I do not think it needs a description. It is pretty clear in my opinion, as is the fact I will never eat it. 🙂 Would you?
Restaurants.
There are lots of restaurants on the island of Rhodes and I will be listing some of them as the site develops. There are of course traditional well priced restaurants where you can enjoy some fine Greek Cuisine and nice entertainment, and if you pay a little more you can get a better experience. There will be more coming on this soon!
What ever option you choose to try you will have a great time. The restaurant owners here are very friendly and will dedicate themselves to seeing you have the best time possible!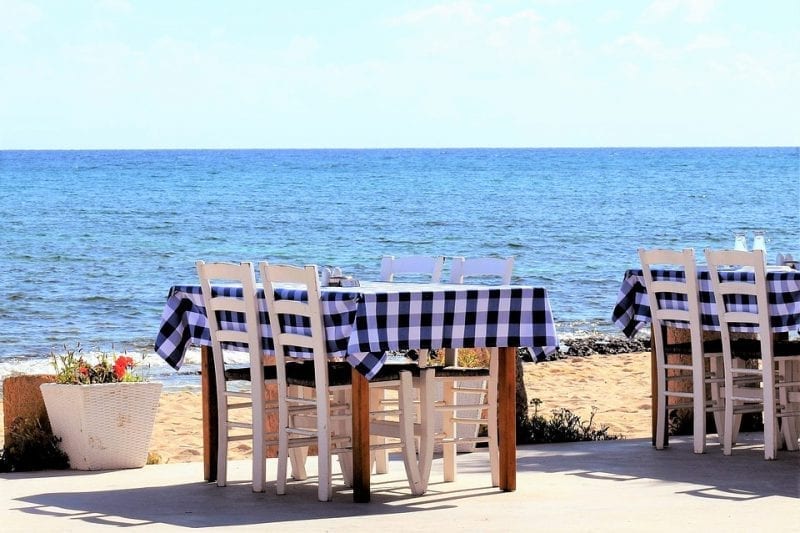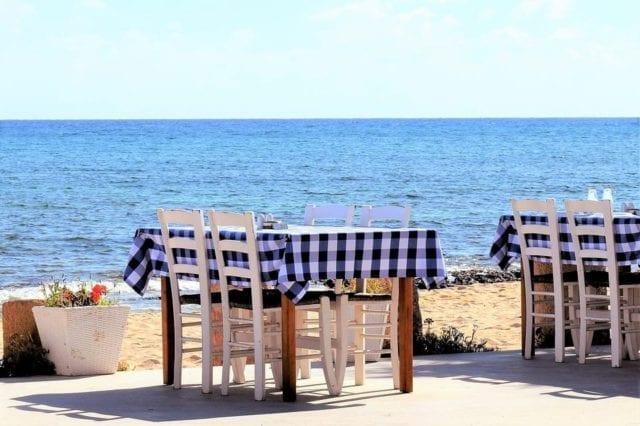 Conclusion
Have you ever sampled the Greek food? What did you think? Personally I love the food in Greece and would love to hear your thoughts too! Just do not talk to me about lamb brain 🙂
Thanks for reading, and leave me a comment below if you have something to add or share.
Thanks!
Chris
Click Below And Learn More About Greek Customs And Culture.