Although the village of Kremasti in Rhodes is a popular one both for locals and for holiday makers, I will be honest and say it is one of my least favorite areas on the island.
First off though, please do not be put off by my thoughts here. I would never discourage people from avoiding a place simply because I do not like it. I have a lot of friends here, and they struggle to see what my problem is with Kremasti, but hey, I want to be honest with you. Make your own mind up though.
An Insight Into Kremasti in Rhodes
Kremasti is a small village on the west coast of the island of Rhodes. You will find it approximately 12 Kilometers away from Rhodes City as you make your way down the west side towards the airport. The translation of the word 'Kremasti" from Greek means 'Hanging'.
The last time I checked, it had a population of approximately six thousand people.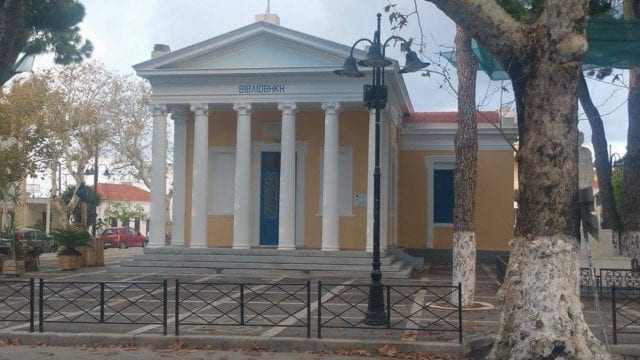 One of the main beauty spots of Kremasti is the Panagia Katholiki Church and the Library!
To my knowledge this is one of the largest churches on all the island (if not the largest) and I will be the first to admit, it is extremely beautiful.
Even if you visit Kremasti only to see the church, it will be a well worth trip for you.
The Library is also a beautiful structure that you can see pictured here.
The Main Street Of Kremasti In Rhodes
The main street in Kremasti, well – that is basically what it is.
There are many shops and shopping areas for you to look at. Bear in mind though, that this area (in my opinion) is not set up as a tourist area.
You will find places which sell decorating equipment for example, butcher shops, handcraft and sewing shops, clothes repairs and electrical services.
Of course, you will also find the standard Greek coffee shops and take away outlets.
There are some hotels around the area and some smaller apartments, but they lay outside the actual village itself or on the back streets.
Kremasti is famous for the big annual festival on the island which is held on August 15th. On this day the Greek people celebrate the Assumption Of The Virgin Mary.
You can read about the public holidays and festivals here.
Approximately over a ten-day period for this festival, they close the road in the evenings and they have stalls set up where you can buy some lovely Greek delicacies, visit the church and witness musical performances and dancing.
Also, they set up quite a good sized fun fair for the children to enjoy. Again this festival is well worth visiting if you are on the island during this time.
Kremasti in Rhodes: The Beach
Kremasti also has a nice stone beach with beautiful waters looking out towards Turkey. This is of course popular with the tourists, as further down there are some big all-inclusive hotels. In the area there are also some smaller family run apartments for you to stay! There is a lot going on in this area when it comes to water sports too. There is a surfboarding center and you see lots of people hitting the water here.
As with Ixia, the stones on the beach can get a little sharp, and also the water here can get a little deep close to the beach itself. If you are with your children, be sure to have this in mind.
The Reasons I Dislike This Area
OK, so let me be honest with you and tell you the reasons why I am not a particular lover of Kremasti.
One of the main reasons is the layout. The main street is very narrow, and you will find the road is always congested with lots of traffic. If you are trying to drive through, it is a headache – trust me.
I managed to capture a photograph which you can see below. This was on a Sunday, and I planned for a quieter time to be able to show you how narrow the street is. I think I did Okay 🙂
Even as a pedestrian though, it is extremely noisy and frustrating, and sometimes you feel like you are putting your life at risk when you need to cross the street.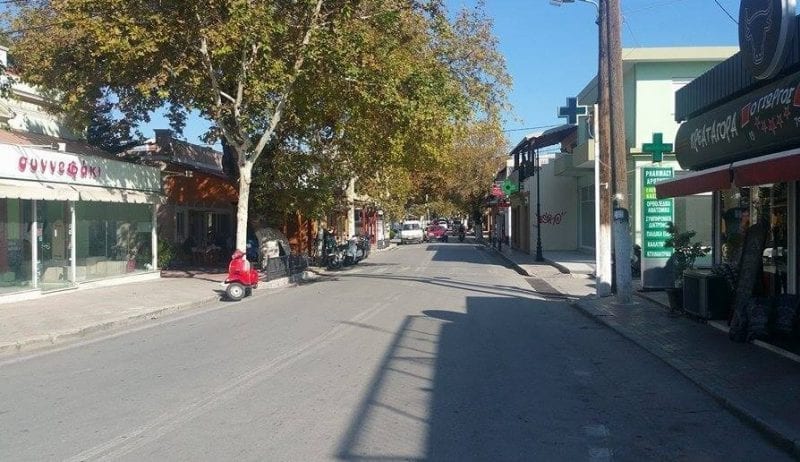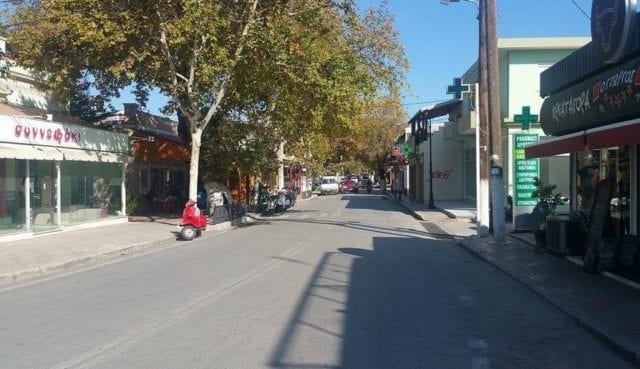 I remember having to walk through the area a couple of years back, and when I got home I was physically ill after breathing in all the exhaust fumes from the various forms of transport.
Never Again.
Because the airport is close by, the village of Kremasti is also extremely noisy. The aircraft need to fly really low over the village during take-off and landing and I know a lot of the hotels nearby get a lot of complaints.
To close, I will just tell you, that not long ago I went with my girlfriend into Kremasti.
We were in the vicinity and decided to get something to eat. We stopped at a small place to take some nice Greek bites and we sat down.
The sheer noise and smell from the road and the air put me off my food. Finally, I just left without eating it – and in a bad mood!
Overall
Please know, I am not trying to deter anyone from visiting Kremasti. It is a village on the island that I feel needs to be seen.
Like I say, the festival and the church are not something to be missed.
I am just telling you my own personal experiences, not trying to put you off.
Many people love the village of Kremasti In Rhodes, so you need to visit and make up your own mind!
I just feel I have given the area many chances, and I have a lot of experience to know it is not for me!
Do you have a different opinion? Have you been to Kremasti and left with the same frame of mind as me? Or did you like it? I would love to hear from you all.
Leave a comment below and I will get back to you!
Click From Below To Continue And Learn More About The West Coast Of Rhodes.