Hello again, and welcome to Ixia in Rhodes. This holiday area is located between 5 and 6 Km South of Rhodes City down the west coast of the island.
Ixia is a popular area for tourists and every year hundreds of thousands of people choose this area to stay for their holidays.
This is the case for many reasons.
There are a lot of luxury hotels in Ixia, mostly 5 star and they dominate the length of the area along the coastal road. Hotels such as Rodos Palace, Olympic Palace, The Rodian Amathus and the Akti Hotel are just a few which lavish the skyline!
The beach in Ixia is made up from small stones and sand, and it is very common for people to undertake water activities here. You will often see sailing boats, yachts, water skiers and jet skis propelling through the beautiful blue waters.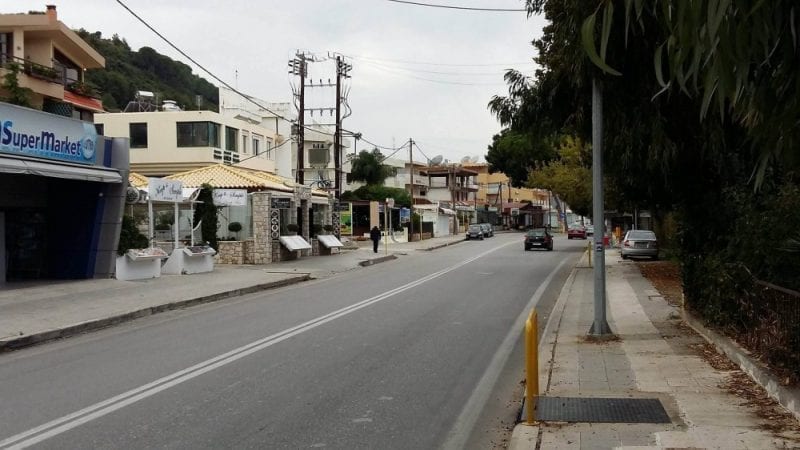 Let's not forget the people sunbathing too. They always like a nice swim to cool down from the hot sun!
Ixia is in an area known by the local people as the 'windy side'. There is a constant wind in this area all year around, which in turn offers some big waves further out. This makes it a perfect choice for people wanting to hit the water activities.
There are plenty of restaurants, bars, coffee shops, cafeterias and shopping areas located throughout Ixia along the main beach road. This attracts people, as there is always something to do and somewhere to go.
My Overall Opinion Take On Ixia
I am going to be honest and say I like Ixia, but it is not for everyone, and here is why!
Because the beach is made up from stones and sand, it can be a little sharp on your feet. Very often I have been down here and had things sticking into my feet causing quite a lot of pain. If you come to the area with your children, this is certainly something to bear in mind.
Because the beach in Ixia runs the whole length of the area, the big hotels opposite have made their claim to the different areas or sections of the beach.
You will find sunbeds etc available, but it is not always clear from which hotel they are being operated by. Some areas are public too, so you will always find space. This is not something that causes a headache, but maybe something for you to be aware of.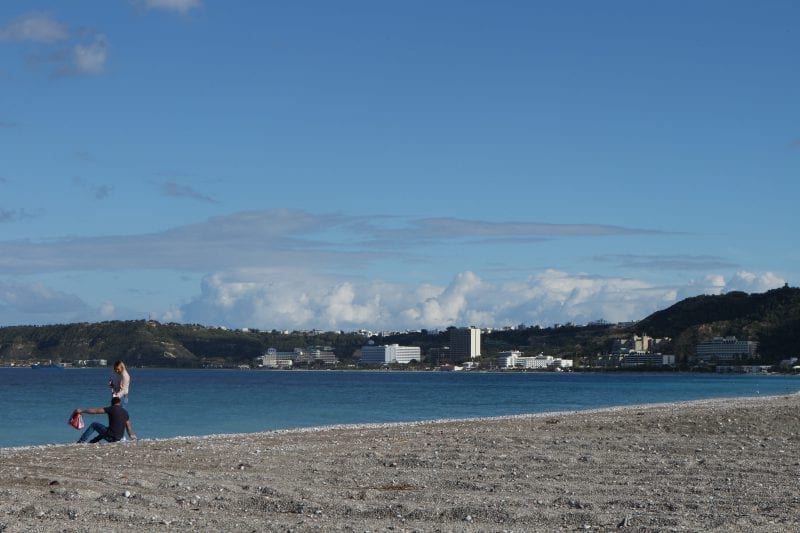 Finally, and one of the things that can be quite irritating, is the sheer volume of traffic that passes through Ixia. This is something that cannot be improved on or changed, as it is on the main road between the City Of Rhodes and the Diagoras Airport.
Thousands of cars, trucks, buses and motorcycles constantly pass through Ixia which can make it a very noisy place and sometimes dangerous too. Crossing the street from the beach back to the hotels and shops can be challenging (or vice versa) and you need to be careful! The traffic is also an issue in Ialyssos and Kremasti too for the same reasons.
It can also sometimes prove a little annoying when you want to travel somewhere for a day. Sometimes the traffic can put some lengthy delays on your journey ahead.
Do Not Be Put Off Ixia In Rhodes
Even though the above points are only my opinions, I do not want anyone to be put off visiting Ixia. Even if you do not stay in this area for your holidays, it is still well worth seeing.
The beach will offer you a really nice relaxing time, and like I say, there is always something to do. The food outlets and shopping areas are really great and more than welcoming. It is definitely not a place to miss out on.
Check Out This Video: It Offers Some Really Nice Views Of Ixia And It's Beach
Ixia really offers a great atmosphere for the holiday makers and it would be a shame for you to pass by on it!
Thanks for reading, and if you have any question on the area of Ixia in Rhodes just let me know! Hey, maybe you have visited this area previously and have your own thoughts? Let me know in the comments below, I would love to hear from you all.
Click From Below To Continue And Learn More About The West Coast Of Rhodes.