One beautiful area on the island (and often overlooked) is the village of Siana in Rhodes.
I have been here so many times and it really is the most gorgeous little village on the island. I personally love it here.
You will find Siana village on the west coast of the island and down towards the south. It is actually just under 70 Kilometers from the city of Rhodes and approximately 5 Kilometers North-East from Monolithos.
Siana has been completely constructed on the side of Mount Akramitis and is a mountain village. This mountain is the second largest on the island, the first one being Attavyros Mountain sitting proud at 1216 meters.
So, What Is The Attraction?
To be honest, the attraction for me is the peace and quiet.
Sitting high in the mountains with fresh air and wonderful sea views offers complete tranquility. There is so much greenery, beautiful trees and fields and there is a lot here that has not been overrun and taken over by tourism.
Do not get me wrong, tourists are more than welcome here. It is just that it is a place where you visit, and then leave. It has not been taken over by huge hotels such as areas like Ialyssos.
There are wonderful views of the other islands just off the west coast (Alimia and Chalki islands) and again, these offer the chance to take the most amazing photographs. Think postcards 🙂
Siana In Rhodes: The Village Of Honey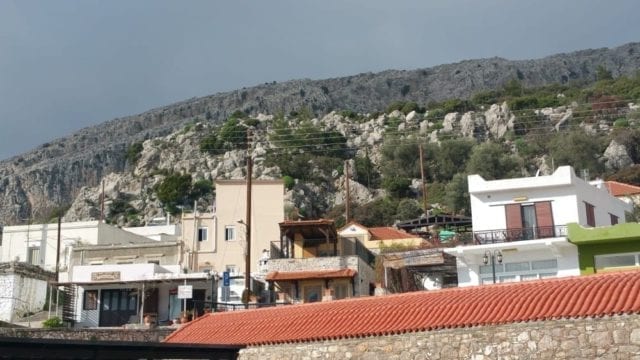 The village of Siana is mainly known for the production and selling of honey as well as the local wines.
You can buy the honey and wine from here to take home with you and you can also enjoy these delicacies from the local taverns.
The honey here is served with yogurt or ice cream and it is really refreshing, especially on a very hot summer day. The wine produced here is superb and well worth a taste. There is also another wine making village not far away from Siana which is called Embonas.
Caution
As well as the wine, there is another drink which is prepared called 'Souma'. Although this is very nice, it is very strong. It puts whiskey and vodka to shame believe me. It is approximately 40% Volume, so if you drink one, forget about driving the car. Sometimes it is better to buy a small bottle and take it back home!
Siana In Rhodes: The Shops And Tavernas
I have been in Siana quite a few times like I have already mentioned. Every time I have ended up putting my hand in my pocket because I wanted to buy something.
When you walk into the shops here, it is all so very tempting. All the different sized bottles of Wines and Souma, jars and tins full of tasty honey and other sweets.
There are many shops to choose from, but most of them pretty much offer the same products for the same price. You will also see other outlets selling Jewelry and clothing.
All the shops are located on the other side of the street to the Honey Factory. Here you can also buy the honey and do some tasting!
The Church in Siana
Another one of the attractions in the village of Siana is the Church. It is the Church Of Saint Panteleimon built in the 19th Century.
This is a real pleasure to the eyes. When I first saw it I was mesmerized. It stands in the middle of the village and it dominates the entire area. While visiting, you cannot help notice it. If you have the chance, go inside too. Something not to be missed.
Siana In Rhodes: Overall
I think Siana is a place that should be seen by everyone. Although it is small and a world apart from the city of Rhodes, it can be a really wonderful day for most people.
Maybe if you have children with you they may get a little bored, but overall I would make the trip to see it.
Even if you are not interest in honey and wine, the views around the area make it all well worthwhile.
Well, that's all for Siana, if you have any questions please feel free to ask them in the comments below. Maybe you have something you would like to share? Maybe you have been to Siana and have your own thoughts and experiences?
I would love to hear from you all and I will get back to you.
Click From Below To Continue And Learn More About The West Coast Of Rhodes.