Heading South on the West coast from the airport, you will find the village of Theologos in Rhodes. This area is also known as 'Tholos'. It is approximately 20 Kilometers from the city of Rhodes.
The word 'Theologos" actually means 'Theologian' or 'The Word Of God'. I wanted to tell you that, as a lot of people have asked me, and it is surprising how many people do not know. So – Now you do 🙂
Theologos is actually quite a basic village. Of course it is popular with tourism (as most places are during the holiday season) and there are many hotels which have been constructed to serve as a home for the holidaymakers.
The main street runs through the middle of the village where you will find all the amenities you need during your stay. Restaurants and bars are plentiful as are supermarkets and shopping areas.
In fact, a couple of years ago, I had one friend come to visit me here from the UK. He was here for 1 week and stayed in Theologos. We got together and went for a drink at a small little taverna called The Lemon Tree. If you ever get the chance, then stop by.
The owner is a really friendly old man, full of stories and magic tricks to keep you entertained. We had areally nice couple of hours there, so do not miss out on this.
A Little Theologos History
I have always tried to dig a little deeper when it comes to learning about this history of this area. I have even passed through the village to talk to the local people and there is very little I can come up with.
Many times I tried to find information via the internet, but again it is very vague.
The only history I can find is that in 2004, an award was offered to the tourists that had visited the area on more than one occasion. They were given this gift of appreciation and were referred to as 'dedicated friends'.
As you can see, the history does not seem to run that deep, but there has to be more doesn't there? I am going to keep digging, and when/if I can find out more, I will let you know.
Theologos For A Holiday
Although I really like Theologos, there are some good points and a couple of bad.
The village itself is quite beautiful. There are nice places and a lovely beach to enjoy and there is also the gorgeous Agios Spiridonas Church to appreciate.
The only problem is, you are quite far from any other areas. It can be quite remote.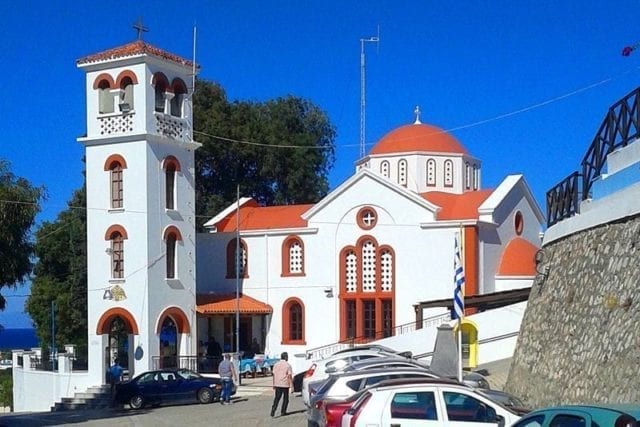 Although there are things to see and do, it is quite small, and you can soon run out of new places to appreciate. Unless you have been to Rhodes before, and are there simply to relax, you will need some form of transport to move around.
There is a bus service that runs through the village on a regular basis which will take you all the way into the city of Rhodes, so it is easy to travel when you need to.
There is also a really good Rental Car service here call Hi-Way. They can provide you with a good car at a good price which will get you around.
You can always talk to your tour operator too. They will be able to book you a car or scooter and it can be delivered to your hotel.
Althougn you will enjoy Theologos for your stay, you will need to consider transport options to see some of the important places on the island.
My Final Thoughts
I have never heard bad words about this area. The hotels here offer a really nice service and the amenities around you will provide you with everything you need.
The people in the area are very friendly and anyone wanting to holiday here will have a really nice time.
Have you had a holiday in this area? Maybe you have something to share? Hey, maybe you know more about the history of Theologos too? It would be great to hear from you all.
Leave me a comment below and I will get right back to you.
Thanks
Chris
Click From Below To Continue And Learn More About The West Coast Of Rhodes.