Another important figure to make history on the island of Rhodes was a man by the name of Apostolos Trifonos (also sometimes spelled as Tryphonos and seen as Απόστολος Τρύφωνος in Greek). He was the elected Archbishop of Rhodes from 1913 until 1947.
As I have mentioned in other areas of this website, I do not intend to make the material here religious or political. This section on important figures in Rhodes is for your information and enjoyment. I have no intentions of pushing my religious opinions or political views. So that being said, let's move on and talk more about the actions of Apostolos Trifonos.
Christianity In Rhodes
Greece, as most of you may be aware is quite a religious country. Personally, I like this side of the Greek culture and it is a really beautiful thing to see people going to church in peace, enjoying the festivities and praying for what they believe in.
Over the years though, religion on the island has been as issue. Over generations of different occupying armies, naturally not all of them have had the same beliefs.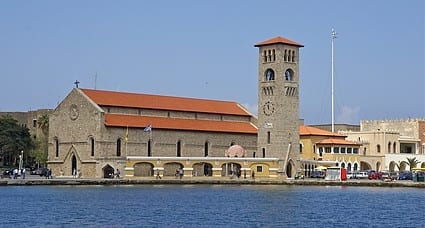 It was said that Christianity was first introduced on the island by St Paul The Apostle when he arrived here in 51 AD after being shipwrecked.
Rhodes though, as you may or may know, has suffered turbulent times in the past. So what has it been like as time has moved on?
The Knights Of Saint John for example occupied the island from 1309 until 1522, and they had appointed a Latin Archbishop. After they were defeated by The Ottoman Empire and forced to leave, Rhodes then was under Turkish Rule and the island fell under the control of the Orthodox Church.
The Italian Forces then went on to control the island after taking possession of the Dodecanese, and they forced their cultural and ethical beliefs and had in place a bishop that had no higher authority to report to within the Catholic Church.
The Germans then arrived on the island in 1943 and then in 1947 the Dodecanese and Greece were unified.
All of this activity has left a massive history when it comes to peoples beliefs. So where does Apostolos Trifonos fit into all of this?
Apostolos Trifonos
Well, during the period of this Archbishops term, the Italians were in control of the Dodecanese Islands.
At first, the Italians were seen as knights in shining armour. They made promises such as delivering a self rule and an independent government and they even promised unification with Greece. Mario Lago, The Governor at the time was instrumental in bringing communties together.
This was not to be maintained though, and after Cesare De Vecchi superceded Lago as Governor, they went on to push their language and culture thus stamping authority with their presence. The Orthodox Church was also a target for hostility and they revoked what was built by The Ottoman Empire before them.
Between 1915 and 1921, Apostolos Trifonos was very active and wanted to make improvements to the education system on the island and to the church too. On a fortnightly basis, he published a religious magazine which was titled 'Orthodox Teachings'. He was also responsible for the organization and rally of The Bloody Easter in Rhodes which took place on April 7th 1919.
Later in 1921, and for his constant unwanted activities, he was arrested by the Italians and banished to the island of Patmos (a small island north of the Dodecanese). From there he went to Constantinople (now modern day Istanbul) and he returned to Rhodes once more in 1924.
As the years passed, the Italians continued to tease, torment and tantalize. In particular, the self-reliant church deeply upset him and other inhabitants. Apostolos Trifonos always stood strong though, and fought for what he believed in. This, among other things, angered the Italians and there was even an attempt on his life while he was making a visit in the South of Rhodes.
World War 2
The German Military took control of Rhodes from the Italians in January 1943. During this period of World War 2, Apostolos Trifonos was very active with his efforts.
He organized schools for education in music and priesthood.
He was also able to stand strong and prevent many executions taking place by the Germans, and he also prevented them from destroying the New Town Market Of Rhodes (a focal point even today on the island) which they had planned to do with an organized blast.
Later
Later, after his term ended on June 4th 1946, he was replaced by Greek Orthodox Bishop Timotheos Evangelinidis.
Apostolos Trifonos died on the island of Rhodes on the 29th Novermber 1957.
Regardless of what happened after his term ended, during his time as Archbishop, he really made a difference. He stood up for what he believed in and he helped as many others as possible. Even despite an assassination attempt and having to face the hazards of war, Apostolos Trifonos always tried to make a difference.
Maybe you have heard of this man before? Maybe you know something I don't? I would really love to hear your thoughts and opinions and even your input with extra information. It is always nice to hear from all of you.
Just leave me a comment blow and I will get back to you
Thanks.
Click From Below To Learn More About Some Important Historical Figures In Rhodes