Cesare Maria De Vecchi was born on the 14th November in the year 1884 in Casale Monferrato (located in The North West Of Italy). After completing his studies in Law, he went on to be a very successful Lawyer in the city of Turin.
After the First World War, he returned to Italy after his service and became a dedicated member of The Fascist Party (a political party set up by Benito Mussolini from 1922 to 1943.
He later became the Commander of the Blackshirts, which was a military wing of The Fascist Party pledging loyalty and an oath to Mussolini.
He was one of the 4 leaders that led The March On Rome in October 1922 which ultimately led to Mussolini and his Fascist Party achieving political power in The Kingdom Of Italy.
De Vecchi went from power to power through his political career, being appointed as Senator by the King Of Italy Victor Emmanuel III and later Ambassador to The Vatican in Rome.
In 1936, he was made Governor of The Aegean Islands, and this is what we are interested in – his time in Rhodes.
Cesare Maria De Vecchi In Rhodes
Cesare De Vecchi went on to be appointed as the Governor of Rhodes taking over
the position from Mario Lago from 1936 until 1941.
Where Mario Lago made great efforts to bring different cultures together on the island, Cesare Maria De Vecchi saw things differently.
Upon his appointment, he bolstered his native Italian language and made it the official language of The Dodecanese with disregard for the others. He also implemented Anti Jewish Laws thus causing great discomfort to their community.
War soon followed between Greece and Italy on the 28th October 1940, and De Vecchi had all Greek men arrested (between the ages of 18 and 60).
He imprisoned them all in a concentration camp known as 'Concentramento' within the trenches of the old fortress of Rhodes.
The 4000+ Jewish residents on the island were halved as over 2000 of them fled the island seeking safety. The Italians and The German Forces were allies, and they shared control over the island of Rhodes. during this period.
This made for very tough times with many people being deported off the island to an unknown future.
De Vecchi's term as governor will not be remembered by many as fruitful. During his time in office he did manage to achieve the construction/reconstruction of some important buildings such as The Grand Masters Palace and other structures around the harbor area of Mandraki.
Unfortunately, the fascist governor and the rules he implemented caused a lot of pain to many people.
De Vecchi returned to Italy after his appointment as Governor in 1941 and The Italian Forces surrendered full control of Rhodes to The German Forces in September 1943.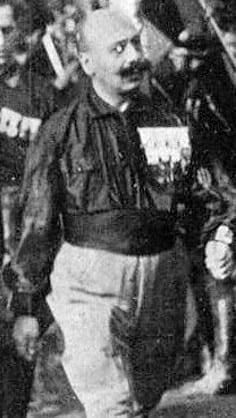 Later Office
After his return to Italy, De Vecchi was appointed to Mussolini's main body of the Fascist Government known as The Grand Council Of Fascism.
It was here that the fascist politician Dino Grandi launched a scathing assault on Benito Mussolini for actions during conflict in the South of Italy.
He made a huge appeal and Mussolini was removed from office. The same day he was also arrested.
De Vecchi backed this appeal by Grandi, but later a trial would be held known as The Verona Trial.
This trial was put in place to punish those that voted for the removal of Mussolini from office. De Vecchi was found guilty albeit in his absence and he was sentenced to the death penalty.
He managed to escape this however and he fled to Argentina.
He returned to Italy in 1949 and he died in Rome 1959.
In Conclusion
Although I do not want this website to be a political and/or religious platform, I will ask you your thoughts on this. For sure the fascist movement is something that would not be accepted so easily in today's world, but back in those days it was an ideology and movement that was hard to prevent/avoid.
Was De Vecchi a cruel man or was he simply following orders?
We know that wartime was hard. Leaders such as Hitler, Mussolini, Franco and Peron were incredibly powerful.
Was it wise to cross them?
As for Rhodes, it must have been a shame to see a lot of Mario Lago's work being undone. What was an island in harmony turned into a war zone must have been very difficult to witness.
But this is politics isn't it?
No two ministers, governors or leaders are the same are they?
I would really love your thoughts and opinions.
Leave them below in the comments and I will get right back to you.
Click From Below To Learn More About Some Important Historical Figures In Rhodes