Although today I am going to be talking to you about Rhodes Town In Greece, I want to go into a little more detail with reference to the New Town!
I have already mentioned The Ancient Rhodes, and this indeed holds the foundations of what the town is like today, but when were all these structures built that we see in these modern times?
Naturally (and as you would expect) the town of Rhodes now holds all the services that you need, the same as any other town or city in all honesty.
Whether you need to go to the bank or post office, do some shopping or simply go to drink a beer or a coffee, it can all be done here. Originally though, builders did not construct many of these structures to house these services.
Actually, the Italians constructed most of what you see in Rhodes Town today during their occupation of the island after 1912.
Builders made some of these structures from scratch, while they refurbished others to suit the requirements at that time.
Okay, so let's take a look around!
Rhodes Town in Greece: The New Market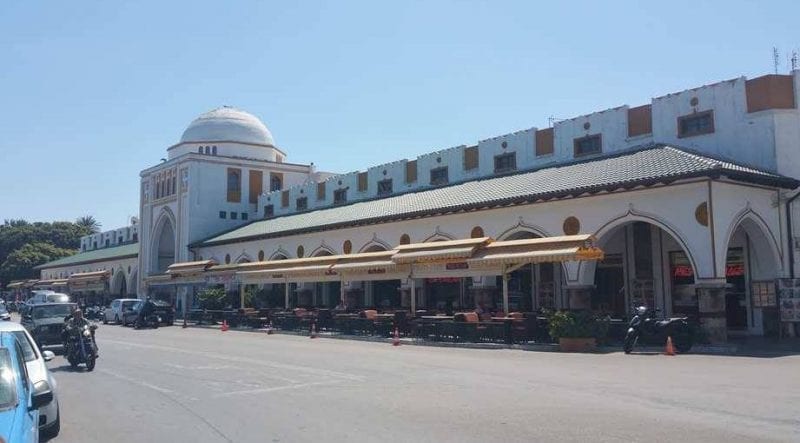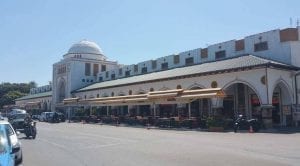 Florestano Di Fausto designed the New Market building.
He was famous for many architectural projects all over the Mediterranean, and this is one of them.
The building construction started in 1925 and it was fully functional 1 year after that!
It is located opposite the street of Mandraki Harbor and it is a huge white polygonal structure (7 sides).
On the front of the building you will see lots of small cafeterias all lined up side by side.
In my opinion they all sell pretty much the same thing. So if you want to stop to eat or drink something, you will almost get the same service from all of the outlets.
All the shops have seating outside and are quite popular with the tourists who want to drink a beer or eat a small sweet.
Just Take Care
I don't like that these outlets, in my opinion, are way overpriced, and you can't walk down the street without someone approaching, and sometimes even taunting you, to sit down and spend your money.
Falling for it once was enough and never again.
I remember stopping with my partner and we stayed for 20 minutes or so and I ordered a large beer and she had a coffee. A small sweet each, and 35 Euros later we left.
Too expensive.
Each to their own though I guess.
Enclosed within the 7 sides of the structure there is a huge open courtyard. Inside here you will find more outlets offering their services.
You will find butchers here, souvenir shops and fisheries.
You can also buy different fabrics, clothing and accessories.
It is nice to look around in this beautiful setting and I would recommend all visitors to Rhodes see it for sure.
Just keep an eye on your expenditure 🙂
Also, from this area you have a beautiful view of The Palace Of The Grand Masters with a perfect photo opportunity.
Don't miss this!
Rhodes Town in Greece: Mandraki Harbor
Right opposite The New Market and across the main street you will see Mandraki Harbor in all its glory.
To the left you will see the Stag and Doe columns and the St Nicholas Tower which stands guard at the harbor entrance.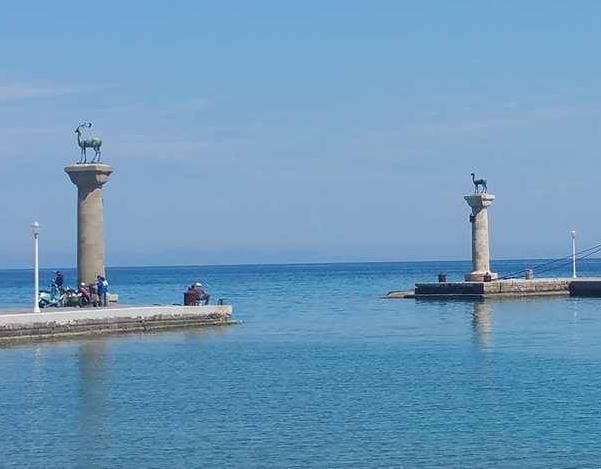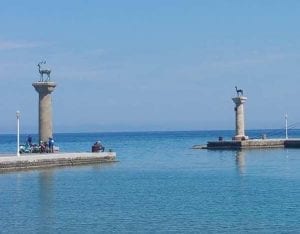 The Knights of Saint John built this tower in the 15th Century to bolster defense against Turkish attacks.
Standing just in front of this area is The Evangelismos Church. This was again built by the Italians, and the same architect holds some of the the credit for its design as he does for The New Market – Florestano Di Fausto. The other architect involved was Rodolfo Petracco.
The church was built as a Catholic Church for the Italian occupation, but today it is the main Greek Orthodox Church on the island. Let me tell you too, it is worth seeing. Most of the times the doors are open, and if you get the opportunity to look inside – you will not regret it. It is simply beautiful!
Scanning your eyes to the right you will see the three windmills which I discussed with you on The City Of Rhodes section. Originally there were 14 or 15 of these windmills in place, but today only 3 remain. They were used to process the grain that came in with the ships to the harbor.
See The Video For A Look Around Rhodes Town In Greece
The Other 2 Harbors
Although a lot of people will tell you that Rhodes Town is relatively small in comparison to other towns and cities, it has a lot going on when it comes to the services arriving by water.
Because of this you will find another 2 harbors just south of Mandraki!
The next one down is known as the tourist port (also called Emborio). This is the case, as all of the huge cruise liners that stop in Rhodes use this area of the water to dock and depart.
Some of these huge cruise ships that come in are certainly worth seeing. To be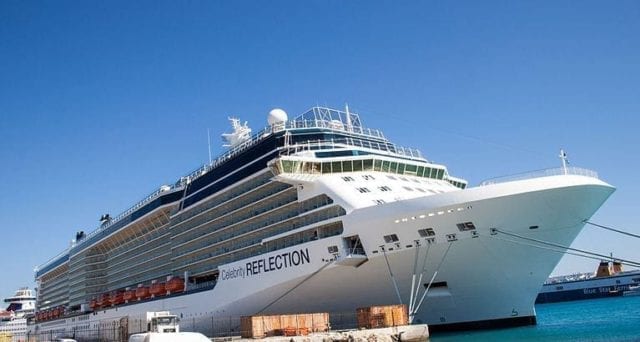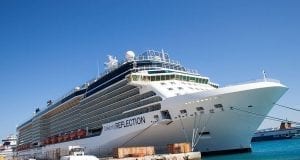 honest, I never appreciated just how big they are until I got up close. I do not know how the hell they stay afloat to be honest. I thought the Titanic was said to be huge, but it was nothing compared to the size of these.
In this area you will find it quite busy with people, as they are always coming and going from the ships. Also, taxis line up there to collect and drop off people as well as the big buses offering island tours.
Further down you will see the port of Akandia. You will know this as all the time (or most of the time) the Blue Star Ferries come and go delivering goods to the island. This is more of a commercial harbor, but you can take the Blue Star Ferry across to other islands in Greece, such as Kos, Santorini and Crete if you wish to do so.
Rhodes Town in Greece: The Important Buildings!
As you walk North on the sea front from The New Market, you will be on Plateia Eleftherias – Eleftherias Square. Heading up, there are some important buildings in place which you should be aware of.
On the left side first of all you will see the Bank Of Greece. A huge structure, and despite the financial issues in Greece as of this moment, this building really is a beautiful structure. As you continue, you pass by the courthouse and then onto the post office and the town hall. At the very end of the street is the old theater which as of this moment is not in use.
Opposite the street and at the side of the Evanglismos Church you will see The Governor's Mansion.
All of these structures were built by the Italians during their occupation here from 1912 until 1943.
At the very tip of the island you will see the Rhodes Aquarium. This is simply an amazing place. It looks very basic from the outside, but once you go in, you go down a set of steps into the underwater caves. This is definitely a must visit if you are in Rhodes.
Overall
Now I want to be honest with you here. If I was to sit and talk to you about all the ins and outs of what New Rhodes Town has to offer, it would take me months to write, and weeks for you to read it all. But I do hope this gives you a little insight of what it is like here.
I have been out today (the day of writing) and taken some local photographs which you can see on the gallery above. I will just apologize in advance, as it was very busy in the town this morning and it was hard to get some good shots with all the traffic. So I ask for your forgiveness. Summer is approaching and it is hard to find a quiet moment 🙂
So, do you have anything to ask? Have you been here and had the chance to capture your own memories on camera?
I would love to hear from all of you. Leave me a comment below and I will get right back to you.
Learn More About The City Of Rhodes. Click From Below For Further Reading.