Welcome to the Cultures and Traditions section of this website. Today I want to talk to you about Greek Arts and Literature while focusing our attention on Rhodes.
Of course when we talk about literature and the arts, this can cover a gigantic scope of information from Ancient Greece to Rome. But do not worry, I am going to keep it simple and brief in order to prevent you from having a headache afterwards 🙂
So, let's get started!
Literature
All the way back in the 3rd Century BC, Rhodes was acknowledged as one of the
most extensive places when it came to literature and the arts.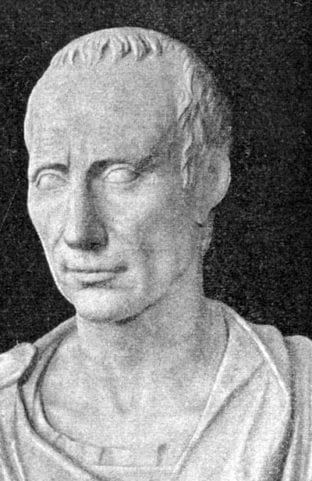 Not only did local people flock to get the education, but also people traveled from afar. Important people too. Romans for example like Julius Caesar, Cassius and Tiberius all came to Rhodes to study philosophy.
Heracleia
Have you ever heard of the poem Heracleia which was written by Peisander? It is one of his most famous works and it honors Heracles who was the son of Zeus and a hero in Greek Mythology.
Well Peisander (Peisandros – Greek – Πείσανδρος) was from Kamiros. Yes that's right, one of the original three cities on the island of Rhodes. He was also a brilliant and notable poet in his time.
Antagoras
Antagoras was also from Rhodes and born after 300 BC. His notable work is that of 'Thebais also known as Thebaid' and is written with reference to a district of ancient Egypt.
He as also known for other areas such as cooking!
Apollonius
Also known as Apollonius of Rhodes, Apollonius Rhodius was considered a legend when it came to poetry and was said to be one of the tremendous poets of the Alexandrian age. When I talk about Alexandrian, of course this is with reference to Alexander The Great!
His most famous work is that of 'The Voyage of Argo'.
Now what do you know about this? Maybe more than you think. It is the story of Jason and his heroic adventures. Yes you got it. Jason and the Argonauts! I am sure you have heard of this tale before 🙂
Cleobulus
Cleobulus was born in the 7th Century BC in Lindos. Again this is another one of the original three cities on the island of Rhodes.
He was named as one of the seven sages of Greece. This name was given to those who had wisdom. Top statesmen, lawmakers and Philosophers were given this title in ancient times.
All the seven sages of Greece are:
Cleobulus of Lindos
Pittacus of Mytilene
Bias of Priene
Solon of Athens
Periander of Corinth
Thales of Miletus
Chilon of Sparta
Cleobulus was an astute law giver and politician, and he ruled the city of his birth (Lindos) for over forty years.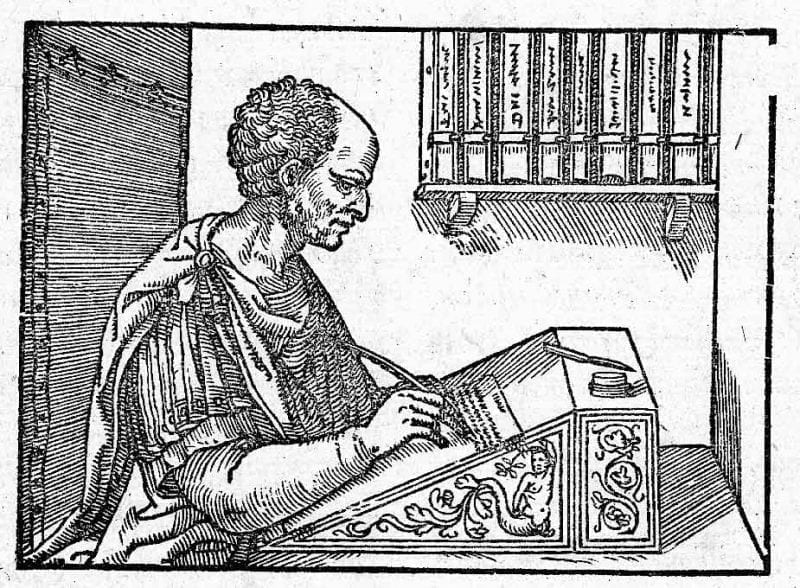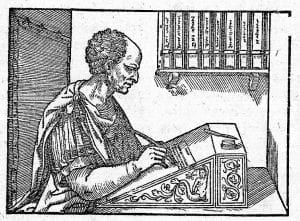 The schooling in Rhodes was famous throughout the lands and even as far as Rome. Some of its lecturers and its speakers such as Archelaos and Molon (and others) were considered the most famous.
Marcus Tullius Cicero, a Roman politician, lawyer, speaker and philosopher spoke very highly of the teachings of Molon by saying:
'He is a gifted orator and excellent writer with a finely honed judgement. He lectures with wisdom and his lessons have achieved the success they deserve'
Cicero came to Rhodes to take part in these lessons, and was highly motivated and captured by the intelligent and excellent tuition that he received.
The Arts
Rhodes became just as famous for the arts as it was for literature in ancient times.
Even today on Rhodes there is so much in the way of talented and gifted people that produce paintings and pottery.
When it comes to naming the most famous names in the arts, it is a long list. For example though, the name Chares may spring to mind as he was the one that went on to make the famous Colossus, one of the seven wonders of the ancient world.
The Farnese Bull
The sculptors of the famous 'Farnese Bull' were Tauriskos and his brother Apollonios Of Tralles and it is said to have been made from only one large block of marble at the end of the 2nd Century BC. These two brothers spent a lot of time on the island of Rhodes. This sculptor was later taken by Asinius Pollio (A Roman Politician) from Rhodes and relocated in Rome.
There is also a reproduction of this work which is located in the Museum of Naples in Italy.
The Laocoon
Another of the famous icons is that of The Laocoon and His Sons. This piece of work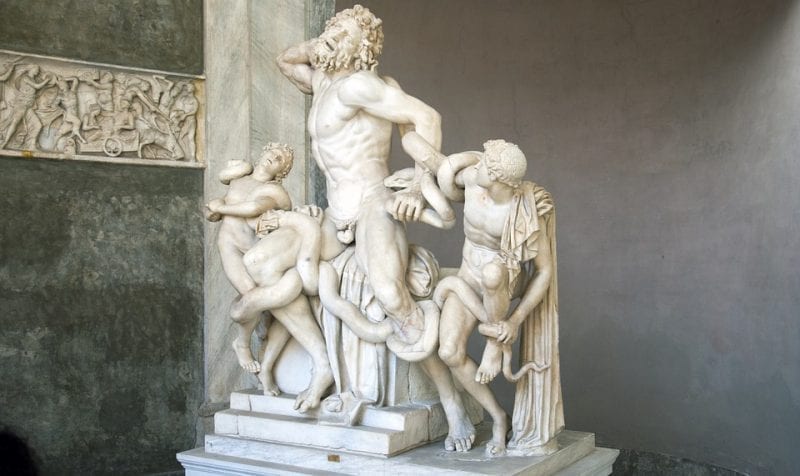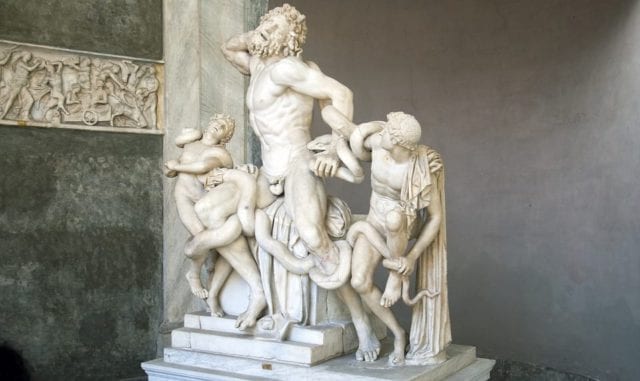 tells the story of the attack on the Trojan Priest  Apollo Laocoon and his sons by serpents that were sent by the gods from the sea.
This was done as a punishment as Laocoon had shown lack of respect and contempt. This is certainly a story of adversity.
This work of art was made by three sculptors namely Athenodoros, Polydoros and Agesandros. Later this artwork was transported to Rome in the 1st Century AD and today it is considered one of the treasures of Greek Art.
Paintings
Another excellent and well-known talent on Rhodes is that of the painters and the paintings that have been produced over time. Some of these are displayed at the Municipal Art Gallery located at The Knights Castle in the Medieval City.
One of the greatest painters was Protogenes. Although he was actually born off the coast of Caria, in the late 4th Century BC he stayed in Rhodes. All of his work never endured, and it is all apparent through references in literature only.
His most famous works consist of Ialyssos and the Resting Satyr.
During your visit to the island you cane be witness to the most beautiful paintings especially when visiting some of the museums here.
Pottery
Rhodes is also very well regarded for its pottery making. Even today there are ceramic shops located around the island where you can buy some of the artifacts.
Pottery making has been on the island for centuries, even as far back as the Minoan Period and it really became popular here.
A lot of the pottery that is made is designed with historic scenes and wonderful patterns and concepts. They are mostly hand made using astounding finesse.
A small souvenir from the ceramic shops is definitely worth taking home with you 🙂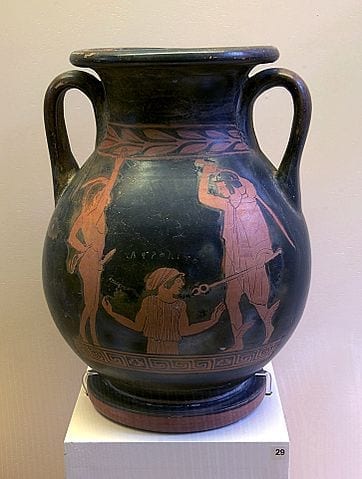 Conclusion
As you can see the literature and the arts are considered something important in Rhodes. It is all so easy to leave the past in the past and look to the future, but some of the people that have lived and the achievements they have made should never be forgotten.
If anything they should stand proud for people to be able to witness and appreciate for generations to come.
Luckily Rhodes preserves a lot of this superb history. I am blessed to have all of this on my doorstep, but I urge anyone who as not been able to see it, to do so.
Greek Literature and The Arts, as well as other cultures and traditions will stand the test of time and should be appreciated by the world.
Have you had the pleasure to witness what I am talking about? Maybe you have been here and have something to share? Maybe you are planning a visit and want to learn more?
Either way, I would love to hear from you all. Your thoughts are always appreciated! Drop me a comment below and I will get back to you.
Thanks again for reading.
Chris
Click Your Option Below And Learn More On Greek Cultures And Traditions.